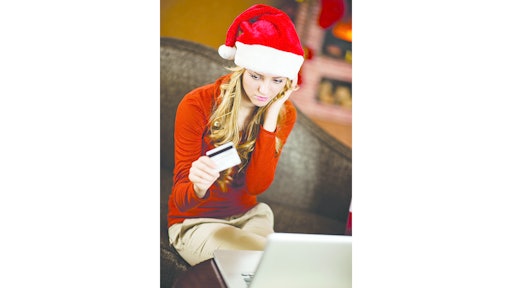 I admit it. I am one of the abusers. An ecommerce abuser, that is. The wonderful World Wide Web and all the efficiencies and endless shopping it affords is indeed an enabler for those of us who wait until the very last minute every year to purchase our holiday gifts (I knew it was wrong, but I couldn't stop).
Before ecommerce, I would find myself at the mall on Dec. 24, spending about eight hours in search of last-minute gifts. That was until six years ago, when my wife—who is not an abuser but rather an ecommerce maven—suggested that we try our holiday shopping online. And, oh boy, we knocked it out in less than 45 minutes, routing everything directly to our families' and friends' respective destinations across the country, wrapped gifts and all. It was a beautiful thing.
It was not until last holiday season, though, that I started thinking about the behind-the-scenes logistics that were necessary to provide me and my fellow holiday shoppers with the joy and ease of online shopping. Two things happened last year. First, the supply chain was massively overwhelmed making major headlines and disappointing many ecommerce abusers, who sadly did not have gifts in time for their loved ones (I was one of them!). Second, my firm Sterling Partners, made an investment in a supply chain company connected to ecommerce, which gave me a front row seat to the logistical explosion that ruptures the supply chain during the holidays.
It's important to note that ecommerce logistics are very different from traditional logistics for three reasons. First, direct-to-consumer orders are one-by-one and require a pick, pack and ship operation that eliminates the opportunity to drive efficiencies of fulfilling and moving product in bulk. Second, orders are highly promotional and result in large peaks and valleys for volume. Third, online orders are unpredictable, both in terms of overall volumes and which products will be hot and will sell. Add it all up and the bottom line is that the holiday surge's impact on the supply chain is exacerbated and ultimately crippling the ecommerce world.
As a result, supply chain executives have an entirely new set of logistical challenges to solve, and the solutions are wrapped up in process, network design, and required new technologies. Software with advanced algorithms are driving new ways in which fulfillment centers and carrier networks are operated, tailored for the unique volume and order flow patterns of the ecommerce supply chain. Nevertheless, despite all of the efficiencies, technologies and notable engineering that are evolving out of the logistics industry, there is a fundamental problem with online holiday shopping: the ecommerce consumer.
As digital consumers, we have been attracted to the enormous benefits of shopping online: the convenience of shopping from home, ease of researching and comparing product options, and often cheaper prices and no sales tax (albeit potentially going away). We have also been trained to buy when we want and what we want, and we expect to receive our purchases quickly. Many recent research studies are identifying two-day ground as becoming the new ecommerce standard expected by consumers, and many retailers are investing heavily to solve for an increasing number of next- and same-day delivery options. Retailers are also exploring various omni-channel strategies, including ship from store, pick up in store, pick up in locker, and order in store/ship to home.
All of these options are training the consumer to believe it is cheap and easy to have a plethora of options to interface with the retailer in an omni-channel world. But it's not. These options are indeed difficult to deliver, require extensive investment in both physical and technology-enabled assets, and demand retailers change the way their infrastructure is deployed.
Consumers are demanding free shipping and shorter delivery times, and retailers are working tirelessly to design supply chain networks to meet those expectations. But the bottom line is that shorter delivery times require heavier and heavier investment. To cut delivery times, retailers continue to build more distributions centers. Multiple distribution centers not only require more fixed cost overhead, but they also require stocking SKUs in multiple locations, which leads to larger working capital investments and more wasted product at the end of season.
Ultimately, the supply chain is built for peak volumes – it can only handle a certain amount of volume on any given day and, if we continue to demand the same short delivery times during the peak season as we do during normalized periods, we will then require a supply chain infrastructure that is largely underutilized for most of the year and unnecessarily expensive.
So what happened last year? A combination of strong holiday online sales growth for yet another year coupled with even shorter delivery time expectations led to a perfect storm of last-minute volume surge on the supply chain. It was us, the ecommerce abusers, who did not consider the ramifications on the supply chain of our tardy, last minute holiday shopping behavior. And why would we? The industry has been training us that two-day (or shorter) delivery times are the new standard.
But the ramifications are severe. As the ratio between normal volumes and peak volumes becomes more and more lopsided, it requires excessive investment to build a supply chain for an excessive peak. Instead, retailers and supply chain executives should train consumers to buy their gifts earlier—with incentives and/or surcharges—to smooth the ratio between normality and the peak, because a more even and predictable supply chain is cheaper. In the long run, a cheaper supply chain will benefit the online consumer the most as the delivered cost of products will be reduced and hence consumers will be able to buy products online at lower prices.
As supply chain executives toggle between distribution center optimization, delivery times, consumer satisfaction and the sum total of their delivered unit cost, they should contemplate the reality that the costs should be and ultimately will be passed on to the consumer, whether it's transparent in pricing or absorbed in the retailers margin. Normalized period delivered cost is a fraction of surge period delivered cost, and those of us ecommerce abusers need to be trained to either pay a much higher premium for last-minute orders or save ourselves the time and stress and buy our gifts earlier!
Companies in this article