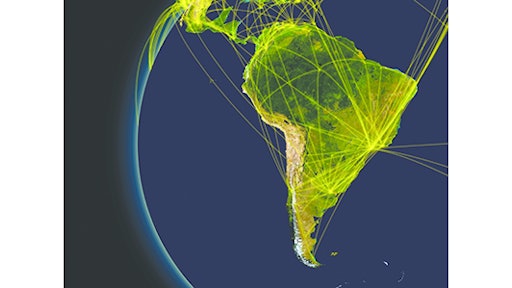 Everyone is talking about reshoring these days, but a slightly less talked about variation is also garnering attention. It is nearshoring, specifically in Latin America where labor is relatively cheap, yet still close to U.S. customers. Companies of all stripes are converging on Latin America in droves; one such company is DHL.
Not only does DHL have more than 10,000 employees in Mexico, but it also has over 800,000 square meters of warehousing space, and the ability to handle 100,000 domestic shipments and international packages a day. The company has established itself in the area to support customers capitalizing on the nearshoring trend, supporting both existing and potential customers moving into the region.
Time Is Money
One of the largest factors in the decision to nearshore to Latin America revolves around getting product to the customer faster. It's common knowledge that customers are expecting more and more when it comes to delivery timeliness, especially when considering the stress that omnichannel retail is putting on the supply chain. One way to accomplish that kind of punctuality is to move closer to the customer base that is demanding the product.
"Over the past couple of years, we have been seeing a real shift, particularly in the demand of companies to deliver products faster to the market and to their customers," according to David Fox, the vice president and head of business development for multinational customers, Americas, DHL Global Forwarding. "By nearshoring [to Latin America], our customers are able to shave weeks off their supply chain, which makes a huge difference" not only to those who are receiving the product, but also to the company shipping the product that must deal with inventory being tied up during supply chain execution.
When you compare nearshoring in Latin America to offshoring to more far-flung regions, the largest single allure is reduced transportation costs, which is comprised of fuel prices, transit times (opportunity cost) and efficiency. Fox also cites general rate increases due to compensating for the peak season, which is upon us now due to the holidays, out of Asia. But it's really the longer transit times that provide an incentive to relocate offshored operations to nearshored locations. "If you look at when offshoring began, let's say 20-plus years ago," says Fox, "fuel costs were four to five times higher than they are today. While energy costs [in Latin America] are not quite as cheap as they are here in the U.S., they are more competitive for manufacturing companies in Mexico" than elsewhere.
An unintended positive consequence of the shorter transit times is environmental stewardship as a result of the product traveling less miles between Point A and B. "Whenever possible, DHL focuses on how we can help reduce carbon footprint by having a product that travels less to the destination. Our customers are very receptive to this," notes Fox. "One of DHL Global Forwarding's corporate social responsibility pillars is our Go Green program, which focuses on the importance of protecting the environment and reducing carbon emissions. That's something we're seeing more and more of in speaking to our customers. Within that Go Green product, we can additionally provide reporting capabilities to our customers to tell them what their carbon footprint reduction is. Being able to measure the shareholder value that it creates is immense."
Location, Location, Location = Proximity, Proximity, Proximity
When discussing nearshoring affecting the supply chain in the Latin America area specifically, Fox states, "Our goal is to simplify our customers' supply chains. For planning purposes, it certainly puts much less pressure on a number of components in the supply chain." He believes that being closer to your customer base affords the opportunity to not have "to plan for such contingencies as port congestion, peak seasons and capacity constraints that the market may place on you when you're offshoring.
"It seems like it's in the news every day that we're talking about port congestion challenges in Los Angeles and how it's negatively impacting supply chains. It's a real pain point that our customers have to deal with now, which is certainly driving a lot of companies to look to get closer to where their customer base is. If you look at the transit times in comparison from the West Coast to Asia vs. Mexico, you see the ability to reduce inventory-carrying costs is significant to manufacturing—it's an advantage to manufacture in Mexico."
The Labor Market
Fox believes that Latin America's labor costs are competitive and that the talent pool is ripe with skills. "Higher labor costs in China are driving the trend toward nearshoring. One of the statistics I recently discussed with customers is that the labor in Mexico is on par, for the first time ever, with China and that's pretty well-documented. We're also seeing training now, which is greatly improving the workforce further.
Judging just from the volume of recalls, one disadvantage that offshoring in Asia produced is lower quality goods. Companies considering reshoring may not need to worry about that pain point as much in Latin America, which has a ready and able workforce. "I think four or five years ago, quality would have been a discussion point. I was in Mexico earlier this year meeting with some of our automotive customers, and clearly, by visiting them, and looking at their facilities and the quality priority within their organizations, their systems and their technology, we see tremendous progress and that bodes well for the future for Mexico."
Regulation Keeping Nearshorers up at Night
Fox says that Brazil and Mexico are the two key countries that his customers are telling him that they're setting up manufacturing in if they're not there already. However, they are concerned about being faced with regulatory challenges by exporting goods: "Last week, we had an engineering and manufacturing conference in Chicago with over 80 customers, as well as a workshop on nearshoring. The key theme that came out of the workshop was regulatory compliance."
Fox says that Latin America is historically known for challenges in regard to regulations and compliance, but "our regulatory folks are there to be able to assist our customers where they have challenges. This allows us to help our customers simplify their supply chains by having that expertise within all of the countries throughout Latin America."
Companies in this article