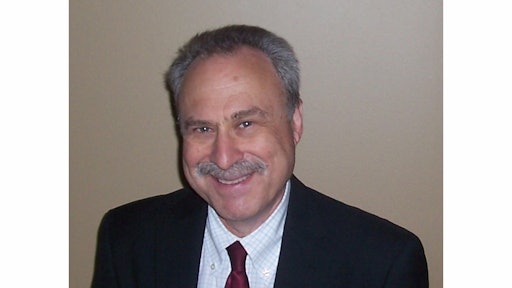 We've all walked through airports at midnight or later. Even the biggest, like Chicago's O'Hare and Atlanta's Hartsfield-Jackson, can seem dark and desolate. I experienced something completely different in late October when I visited UPS Worldport in Louisville, Ky. Between 11 p.m. and 2 a.m. 100 or more aircraft landed and took off from the facility, UPS's main air hub. (Throughout a 24-hour period, 251 inbound and outbound flights pass through Worldport, carrying 416,000 packages and documents per hour!)
The lengthy tour began around 9 p.m. in the control center, with monitors around the walls and staffers occupying large, roomy cubicles. A live map of the airport showed traffic coming in and going out. There are five groups in the control center, each in its own corner of the room, explained our guide, Mike Mangeot, Manager, Public Relations for UPS Airlines. A problem-solvers unit deals with issues that come up throughout the night (or day); another handles crew scheduling; a third is the aircraft maintenance and control ("literally mechanics, like a help desk," Mangeot says); fourth is flight dispatch, the eyes and ears of the pilots and the FAA (route planning is their prime function). The fifth unit is on a raised platform in the center of the room—the Bridge, where the lead person from each of the functions sits.
This efficiency and oversight is vital as we head into the holiday season. Everyone remembers last year, when all carriers had issues with late deliveries. While bad weather and a short holiday shopping season played a role, the volume generated by exponentially growing online shopping was a likely factor. As online sales continue to zoom, UPS is doing all it can to be ready.
The company said it expects to deliver 585 million packages in December, up 11 percent. It also said shipments will peak on the Monday before Christmas when it expects to make 34 million deliveries—double its normal daily load. It has also bolstered capacity by preparing what it calls "mobile delivery villages," which are modular facilities that can expand existing shipping centers, as well as hiring 95,000 temporary workers. FedEx expects to make 290 million deliveries between Black Friday and Christmas, up nearly 9 percent. It will also hire 50,000 seasonal workers.
The nuts and bolts of the Worldport facility are fascinating. Here are just a few: There are 70 aircraft docks, 33,496 conveyors (155 miles worth), 546 camera tunnels, 19 tilt-tray sorters (2.6 miles of track), 17,220 tilt tray, 325 unload positions and 1,520 load positions. All of this sits on 5.2 million square feet, with a perimeter of 7.2 miles. Impressive numbers to say the least.
Speaking of impressive. I think you'll enjoy this issue of Supply & Demand Chain Executive. As UPS, other carriers and companies like Amazon, gear up for the holiday crush, we've got a story on how last-minute online shoppers are changing the game (p. 22). In addition to our annual Green Supply Chain Awards p. 14), you'll get the latest information on the reshoring question (p. 8 and p. 12), how track-and-trace can benefit the pharma industry (p. 18), a look at the changing workforce (p. 28) and more.
Happy Holidays!