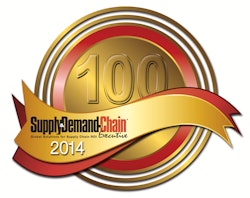 It's no secret that the supply chain is a complex, living, breathing ever-evolving entity.
As the world grows smaller, the importance of a transparent global supply chain is paramount. The growth of technology, while making some of this easier and more efficient, brings its own set of complications. There's risk, strict and often difficult to decipher regulatory issues, international law and on and on….
The projects we describe here, in our Supply & Demand Chain Executive 100 will provide some direction, some examples of what can be done to ensure a more successful business. The alternative is not good.
Featured Projects
Enabler: Acsis Inc. (Marlton, N.J., www.acsisinc.com)
Customer: Ashland, Inc.
Project: Streamline the shipping process
Solutions/Services: Acsis Parcel Management in conjunction with the customer's SAP system.
Business Impact: By fully automating data collection, order shipping and ERP integration through Acsis Parcel Management, the customer was able to process orders more efficiently, reduce errors and reduce costs. The resulting savings from the automation allowed them to replace 27 temporary employees with two full-time employees. SKUs per day increased from 400-500 per day to 1100 per day.
Enabler: Arena Solutions (Foster City, Calif., www.arenasolutions.com)
Customer: Air International Thermal Systems
Project: Air International North America implemented Arena's cloud-hosted Arena PLM software solution to unify its entire supply chain into an integrated product development environment
Solutions/Services: Arena Solutions' cloud-based PLM
Business Impact: Air International has grown and thrives as a relatively new entrant to a very competitive market through the use of an outsourced manufacturing model. Communications with both current and prospective suppliers are faster, timelier and more efficient. Air saves 10 percent on parts through greater visibility into a supplier's costs and cut its own prices by 10 percent while accelerating delivery time by 20 percent. Savings gained are in the millions.
Enabler: Avercast (Rexburg, Idaho, www.avercast.com)
Customer: Global publishing company
Project: Centralize and streamline forecasting and demand planning processes across divisions
Solutions/Services: Avercast Business Forecasting, Supply Planning, and Sales & Operations Planning
Business Impact: Improved forecast accuracy, increased inventory turns, and improved communication and collaboration throughout the end-to-end inventory planning process.
Enabler: Avendra (Rockville, Md., www.avendra.com)
Customer: Grand America Hotels and Resorts
Project: Provide a centralized procurement resource to help maximize Furniture, Fixtures & Equipment (FF&E) capital expenditure
Solutions/Services: pre-negotiated supplier contracts/pricing, a comprehensive FF&E offering, and tailored consultative sales
Business Impact: Minimized downtime/business disruption, supported sustainability and innovation initiatives. In need of a large order with a short lead time, attention to detail made a major impact and allowed internal staff to focus on key business imperatives and critical day-to-day operations.
Enabler: Blue Ridge (Marietta, Ga., www.blueridgeinventory.com)
Customer: Leading hardware retailer
Project: Maximize return on promotions and increase service levels, while reducing inventory costs
Solutions/Services: Blue Ridge Cloud Demand Forecasting, Planning and Replenishment solution; Blue Ridge Visibility Analytics
Business Impact: increased the company's overall forecast accuracy as well as precision on promotional and seasonal purchases. Because of this the company was able to reduce excess inventory and safety stock by 10 percent and at the same time increase service levels to stores by 2.5 percentage points.
Enabler: CargoSmart Ltd. (Shatin, New Territories, Hong Kong, www.cargosmart.com)
Customer: Leading food and beverage retailer
Project: Optimize its supply chain by implementing a TMS to improve supply chain visibility and increase efficiency
Solutions/Services: Global TMS
Business Impact: Reduced overseas communication time, reduced contract maintenance effort and optimized rate selections, saved on ISF and EEI filing costs with self-filing, saved effort tracking and minimized charges due to late shipments, reduced detention and demurrage fees, saved effort compiling MQC, allocation, and rate trend reports, saved time updating data to internal systems for archiving and accounting and improved inventory management, accounting, and cash position.
Enabler: Celsis International (London, www.celsis.com)
Customer: Unilever
Project: Decision Support/Business Intelligence/Consulting/Education/Quality
Solutions/Services: Celsis rapid detection system with AMPiScreen® reagent assay
Business Impact: The standardization of testing and release protocols has shortened Unilever's hold times from 2-7 days down to one day, significantly shortening their product production cycles. This allows micro to respond much faster to manufacturing so products to be released to distribution.
Enabler: DiCentral (Houston, www.dicentral.com)
Customer: TJM Innovations
Project: TJM was just not able to send accurate invoices and the issue needed to be remedied, and quickly
Solutions/Services: DiIntegrator, combined with DiCentral's hosted EDI translation and routing services (web based EDI – DiWeb)
Business Impact: TJM Innovations easily imports the day's purchase orders from DiIntegrator to NetSuite ERP, where the orders and labels are created. During its busy season TJM can now easily process over 1000 documents a week.
Enabler: enVista (Carmel, Ind., www.envistacorp.com)
Customer: Hibbett Sports
Project: Develop a supply chain strategy that improved the flow of merchandise from source to consumption.
Solutions/Services: MercuryGate TMS, Manhattan Associates WMS upgrade
Business Impact: Hibbett is transforming its supply chain to synchronize supply with demand and increasing speed to market. The speed reduces variability in the supply chain and improves in-stock percentages and reduced work-in-process inventory and safety stock, and ultimately improving store service.
Enabler: Epicor Software (Austin, Texas, www.epicor.com)
Customer: Triad Technologies LLC
Project: Warehouse automation
Solutions/Services: Epicor Prophet 21
Business Impact: Top-line sales increased 28 percent, receiving department saw a 25 percent increase in handling with 60 percent less labor, reduced picking labor by over 50 percent with the same transactional volume.
Enabler: Fortna (Reading, Pa., www.fortna.com)
Customer: Tech Data
Project: Warehouse systems overhaul
Solutions/Services: SAP WM and FortnaWCS.
Business Impact: Their on-time delivery rate is 99.99 percent. And throughput has gone from 45 pieces per labor hour to over 70. There is standard training and better collaboration across the six DCs since they share a single platform. And they significantly reduce labor costs.
Enabler: Grand Junction (San Francisco, www.grandjunctioninc.com)
Customer: I.O. Metro
Project: Maintain a consistent high-quality customer experience across stores' customer deliveries using a multi-market network of local carriers
Solutions/Services: Grand Junction's Software-as-a-Service platform
Business Impact: Customer service call volume reduced by 32 percent, most calls resolved while on phone and the average response time improved by 98 percent, lost and damaged goods decreased by 35 percent, other types of quality issues decreased nearly 20 percent, charge approval time for couriers decreased by 25 percent, improved delivery quality, improved item visibility after items are handed from DC to courier, eliminated 48-hour issue resolution bottleneck and created a scalable logistics operation.
Enabler: Greybeard Advisors (Pittsburgh, www.GreybeardAdvisors.com)
Customer: Water utility
Project: Transform procurement from tactical to strategic function that significantly enhances stakeholder value
Solutions/Services: Worked with client's existing software landscape
Business Impact: The client is on track to achieve an outstanding Return on Consulting Investment (ROCI), far greater than conventional consulting approaches.) As important as the immediate financial results: the capabilities of the procurement team are being substantially upgraded and enabling the client to drive future results on its own.
Enabler: Invata Intralogistics (Conshohocken, Pa., www.invata.com)
Customer: Old Dutch Foods
Project: Designed distribution center, doubling the throughput of the previous DC operation with just half the labor
Business Impact: Old Dutch Foods achieved its goal of creating a more streamlined distribution center; it is now in the process of doubling production to meet growing demand for its products, and is doing so without expanding its staffing. They have also been successful in achieving goal of eliminating shrinkage.
Enabler: International Business Systems (Solna, Sweden, www.ibs.net)
Customer: Ardo
Project: WMS
Solutions/Services: IBS Dynaman (WMS), Savoye Magmatic (AS/RS), Logflow Consultative Services
Business Impact: The WMS verifies that the correct pallets are distributed to the correct trucks by optically verifying the labels on the pallets. Distribution errors were reduced by eliminating much of the manual labor using Excel spreadsheets. Inconsistencies and errors have been reduced more than 90 percent of the time.
Enabler: Intesource (Phoenix, www.intesource.com)
Customer: Raley's
Project: e-Sourcing Implementation & Management
Solutions/Services: Full-service e-sourcing (reverse auctions, RFP, and RFI), supplier discovery services, training, best practices consulting.
Business Impact: Expanded vendor database, different products or service strategies, higher customer satisfaction, standardized approach, intensified focus on and understanding of all expenditures, savings to date exceed $10 million.
Enabler: IQMS (Paso Robles, Calif., www.iqms.com)
Customer: Protoplast Inc.
Project: Create a new manufacturing technology called Injection Transfer Blow for its OEM and Tier 1 automotive suppliers.
Business Impact: Protoplast has virtually created a new market and opened doors for exciting new sales opportunities. Injection Transfer Blow products accounted for approximately 2.5 percent of Protoplast's 2013 sales. Protoplast's goal for 2014 is to increase this (and the company's overall sales growth) by 10 percent. Based on current and anticipated projects, Protoplast expects to exceed this goal.
Enabler: JDA Software (Scottsdale, Ariz., www.jda.com)
Customer: Topco Associates LLC
Project: Improve replenishment, demand forecasting and inventory turns while reducing the liability associated with its perishable inventory
Solutions/Services: JDA Supply Chain Now Services: JDA Cloud Services, JDA Consulting Services, JDA Education Services, JDA Support Services
Business Impact: Reduced inventory via new safety stock logic, improved inventory turns, achieved customer-specific forecasting capability, increased supply chain agility, reduced implementation time and costs, and implemented solution in six months.
Enabler: JVKelly Group (Huntington, NY, www.jvkg.com
Customer: Fortune100 information company
Project: Harmonize data to reduce tax audit costs on a global basis without reducing quality of services
Solutions/Services: JVKellyGroup analytic tools and proprietary benchmark intelligence
Business Impact: Without disrupting services, the client reduced expenditures 24 percent across the board in year.
Enabler: Kane is Able (Scranton, Pa., www.kaneisable.com)
Customer: SunMaid Growers of California
Project: Supply chain optimization
Solutions/Services: TMS and WMS integration
Business Impact: Using a Collaborative Distribution strategy reduced supply chain costs up to 35 percent. Benefits such as dock congestion and labor are realized for the retailer. Additionally, there are benefits to the environment, including reduced carbon output and traffic.
Enabler: Kenco Logistics Services (Chattanooga, Tenn., www.kencogroup.com)
Customer: Unidentified
Project: Kenco's customer wanted to consolidate a 600,000 square-foot facility and part of a 250,000 square-foot facility into a 474,000 square-foot facility. The transfer included a total of 32,000 product codes and 2,500,000 pieces of inventory
Solutions/Services: Very narrow aisle (VNA) wire guided storage and material handling solution for floor storage locations
Business Impact: The VNA floor storage solution in the single deep area was able to increase the number of pallet locations by 66 percent. The solution freed 126,000 square feet of warehouse space for additional storage, allowing it to receive a total of 36,000 product codes with more than 3 million pieces of inventory.
Enabler: Logfire (Atlanta/www.logfire.com)
Customer: American Sportswear—Tommy Hilfiger/Calvin Klein
Project: Provide warehouse management automation for a DC in Panama serving wholesale & retail operation for the entire Latin American region
Solutions/Services: LogFire Cloud-based Inventory & Warehouse Management
Business Impact: Successfully implemented for primary DC in Panama FTZ to serve the Latin America, Central America, and Caribbean wholesale and retail channels for Tommy Hilfiger. Has led to the addition of all of Calvin Klein.
Enabler: Logility (Atlanta, www.logility.com)
Customer: Massimo Zanetti Beverage
Project: Align production planning with resources, improve agility to respond to increased supply chain complexities, consistent long-term plan for raw materials
Solutions/Services: Order/Demand Management/Forecasting
Business Impact: Six months following the new process and the implementation of Logility Voyager Solutions, Massimo Zanetti Beverage decreased planning cycle time by 66 percent, increased inventory turns, reduced inventory 14 percent, and is now able to produce multiple "what-if" scenarios to generate optimal plans and stay ahead of changes in its global supply chain.
Enabler: Longbow Advantage (Montreal, www.longbowadvantage.com)
Customer: Subaru of America
Project: WMS implementation
Solutions/Services: Longbow Advantage implementation and integration consulting services to upgrade Red Prairie WMS and WFM solutions
Business Impact: Subaru improved overall warehouse efficiency and allocation times improved. Subaru of America reduced shipment planning and allocation process time from 2.5 hours to 20 minutes.
Enabler: NeoGrid (São Paulo, Brazil, www.neogrid.com)
Customer: Leading global OTC healthcare company
Project: Enable a standardized demand planning process across eight countries. Use the technology and service to create a consensus plan regardless of technical and cultural challenges.
Solutions/Services: NeoGrid's Supply Chain Synchronization Demand Planning Solution
Business Impact: Improved visibility, improved forecast accuracy, increased sales and service levels while reducing returned products from their retail partners. Improved performance on promotional and new product launches.
Enabler: NetSuite (San Mateo, Calif., www.netsuite.com)
Customer: Epec Engineered Technologies
Project: Supply Chain Integration & Infrastructure/ERP
Solutions/Services: NetSuite cloud ERP/Manufacturing Edition, Selectica CPQ (Configure-Price-Quote) engine
Business Impact: Epec has achieved lean, agile global supply chain and manufacturing execution using cloud ERP with cost-efficiencies that help keep prices low and drive business. Estimated ROI from cloud ERP at more than $500,000.
Enabler: Next Level Purchasing Association (Pittsburgh, www.nextlevelpurchasing.com)
Customer: Large financial services provider in Central and Eastern Europe
Project: Build credibility among internal and external customers and get all procurement staff certified at the same level
Solutions/Services: SPSM Certification from the Next Level Purchasing Association
Business Impact: Through certification, the client's procurement department gained credibility among their internal and external clients, which has led to better working relationships and cooperation resulting in better financial results for the organization as a whole.
Enabler: Nipendo (Burlington, Mass., www.nipendo.com)
Customer: Israel Aerospace Industries (IAI)
Project: Automate the Procure-to-Pay process, establishing a paperless and errorless process across the entire supplier base for all spend categories
Solutions/Services: Nipendo Supplier Cloud
Business Impact: "By electronically receiving and processing over 90% of our supplier invoices, IAI is putting to practice the idea of the paperless organization. This is a true revolution which allows us to improve collaboration with our suppliers, establish efficient and cost-effective supply chain integration, and most importantly, dramatically reduce errors that were caused due to manual interactions along the supply chain."—Gabi Ben-Shlush, IAI Head of Accounting
Enabler: Noosh Inc. (Mountain View, Calif., www.noosh.com)
Customer: Miller Zell
Project: Select a comprehensive project/procurement management technology providing supply chain visibility from customers to suppliers through a single system of record.
Solutions/Services: Noosh Enterprises Edition
Business Impact: Improved delivery, agility, procurement efficiency and effectiveness; streamlined collaboration and reporting for large national clients and numerous, widely dispersed subcontractors. Suppliers are held to delivery dates and specifications, while being able to innovate and reduce input costs. Some clients are realizing cost savings of 15 to 18 percent on POS expenses.
Enabler: Puridiom (Mechanicsburg, Pa., www.puridiom.com)
Customer: Hershey Entertainment & Resorts
Project: Procurement transformation
Solutions/Services: Puridiom 4.3 Enterprise Procurement Solution—Cloud platform
Business Impact: Over $12 million in spend management in the first full year of production. Spend under management has steadily increased with over $20 million in 2013.
Enabler: Purolator International (Jericho, N.Y., www.purolatorinternational.com)
Customer: Leading Specialty Retailer
Project: To develop and implement a robust e-commerce solution to Canada focusing on end consumer experience.
Solutions/Services: Purolator International's Beacon system.
Business Impact: A 15 percent cost reduction, transit time improvement of 1.8 days, growth in Canadian marketplace of 10 percent in six months, reduction in customer service issues, improved visibility to end consumer, and improved visibility internally to various matrices.
Enabler: Resilinc (Santa Clara, Calif., www.resilinc.com)
Customer: EMC. Corp.
Project: Gain comprehensive global visibility into multi-tier supply chain, regulatory, and brand risks to EMC on an on-going basis
Solutions/Services: Resilinc SupplyIntel, EventWatch, and Conflict Minerals Module
Business Impact: Improved manpower and productivity helped create a centralized, easily accessible repository of supplier intelligence and made that repository available to its supply chain practitioners. As a result, the number of information requests to commodity managers was cut in half. This, in turn, gave commodity managers more time to work suppliers, and they more than doubled the number of critical suppliers they talked to on an ongoing basis.
Enabler: Saddle Creek Logistics Service (Lakeland, Fla., www.sclogistics.com)
Customer: Leading beverage producer
Project: scalable supply chain management to accommodate rapid business growth.
Business Impact: Having ready access to value-added services allows the beverage company to move inventory closer to its customers, optimize packaging for end users, and remove a node from its supply chain. The company also gains a competitive edge with an exclusive pack option.
Enabler: Satellite Logistics Group (Houston, www.slg.com)
Customer: Crown Imports LLC/Constellation Brands, Beer Division
Project: Crown Imports wanted help managing keg returns across Mexican border to increase overall velocity, manage distributor relationships and reduce keg shrinkage
Solutions/Services: SLG's Kegspediter® keg management
Business Impact: Increased keg turns, a reduced asset investment and the ability to accommodate business growth. SLG is able to collect Crown Imports' kegs more frequently and cost effectively, typically doubling previous keg turns. Reduces Crown Imports' capital expenditure on kegs, it also helps to keep kegs moving through the system efficiently and reduced keg shrink rate down to approximately 3 percent, well below the industry average of 6 to 8 percent.
Enabler: Silvon Software (Westmont, Ill., www.silvon.com)
Customer: U.S. Snack Foods Producer & Distributor
Project: Decision Support/Business Intelligence/Consulting/Education/Quality
Solutions/Services: Silvon's Stratum applications for collaborative planning, sales analysis and inventory performance reporting
Business Impact: The company has been able to decrease operating expenses like wasted packaging, lost sales, and expedited transportation costs that had previously resulted from inaccurate sales plans. The solution is providing the metrics required to better stratify its routes to ensure high customer service and profitability levels.
Enabler: SYSPRO (Johannesburg, South Africa, www.syspro.com
Customer: Von Drehle Corp.
Project: Gain in-depth visibility into operations
Solutions/Services: Multiple SYSPRO solutions
Business Impact: Because the software enables the company to streamline production and reduce costs, VonDrehle can underprice its competition. SYSPRO ERP produces a variety of reports that give management insight into financials, inventory levels and other operational statistics. In addition, the software has enhanced worker productivity because each can easily customize the software to access only the specific information required to best perform his/her job.
Enabler: Terra Technology (Norwalk, Conn., www.terratechnology.com)
Customer: Global 500 energy company
Project: Improve forecast accuracy to enable reductions in inventory and improve return on working capital and customer service.
Solutions/Services: Terra Technology Demand Sensing and Multi-Enterprise Inventory Optimization
Business Impact: The company was able to cut several days of stock, freeing cash and improving return on working capital while enhancing customer service. By shifting the S&OP process from balancing volume to balancing value, the company improved financial performance by identifying and focusing efforts on SKU-level financial and supply chain metrics that drive profitable returns.
Enabler: Thrive Technologies (Marietta, Ga., www.thrivetech.com)
Customer: $600 million auto parts distributor
Project: Client had an existing forecasting and replenishment system but forecast planners were spending excessive hours every week overriding 50-70 percent of the forecasts due to lack of confidence in their accuracy
Solutions/Services: Thrive Firstcast Demand Forecasting system
Business Impact: After three months, Thrive had reduced forecast overrides by 90% due to forecast planners' confidence in Thrive accuracy. Thrive's improved forecast accuracy reduced lost sales by 70 percent which obviously had a positive impact on revenues.
Enabler: Virginia Department of General Services/Division of Purchases and Supply (eVA, Richmond, Va.)
Customer: Commonwealth of Virginia
Project: Re-engineer the procure-to-pay processes through active and ongoing collaborative participation with state and local governments, finance and suppliers
Solutions/Services: CGI Advantage, Ariba and Logi Spend Analytics
Business Impact: More than 90 percent of discretionary Commonwealth spend is processed through the eVA platform. In terms of specifics this translates into more than 15,000 public sourcing events, 450,000 orders valued at more than $5.5 billion annually. Result: demonstrated savings for the Commonwealth of more than $30 million per year.
More SDCE 100 Recipients
Enabler: Agistix (San Mateo, Calif., www.agistix.com)
Customer: Frozen food distributor
Project: Provide online access to customers, sales and sales agencies, brokers, and distributors to track truckload shipments.
Enabler: ALOM (Freemont, Calif., www.alom.com)
Customer: Ford Motor Co.
Project: Developed and implemented Ford Recycle for Charity program in 2012 to improve return rate, recycle media, promote green sustainability initiative and generate funds for charitable donation of Ford MyTouch GPS navigation system replacement/upgrade SD cards.
Enabler: American Global Logistics (Atlanta, www.americangloballogistics.com)
Customer: American Signature Inc.
Project: Created visibility of supply chain to all parties (internal & external) in one environment. (AP/AR, Procurement, Imports, Warehousing, Vendors, Shiplines, Truckers, Brokers, NVO's, Agents).
Enabler: APS Technology (San Diego, www.aps-technology.com)
Customer: Terminal de Contenedores de Buenaventura (TCBuen)
Project: TCBuen has improved data accuracy, throughput and safety, while decreasing overall operating costs. Pre-automation gate transaction times took six minutes with 24 people for six lanes. After automation, times went down to one minute and 20 seconds with eight people for six lanes.
Enabler: Aptean (Atlanta, www.aptean.com)
Customer: High-end restaurant chain
Project: Supply chain project expected to increase productivity by up to 50 percent and improve operational efficiency by forecasting demand. The restaurant chain expects a $425,000 return on investment in 2014.
Enabler: Aras (Andover, Mass., www.aras.com)
Customer: Getrag Ford Transmissions
Project: Coordinate and streamline global product development processes for systems engineering of mechanical, electronic, software/firmware of next generation vehicle transmissions at multiple locations and with suppliers.
Enabler: Ariba, an SAP Company (Sunnyvale, Calif., www.ariba.com)
Customer: MSC Industrial Supply, Co.
Project: MSC has boosted its sales by more than 100 percent. And in accessing the detailed customer data within the network, the company has been able to engage its customers in completely new ways that give it significant advantage over its competitors.
Enabler: ARRIS Group (Suwanee, Ga., www.arrisi.com)
Customer: ARRIS Group
Project: Leveraged larger volume spends and strategic relationships with "legacy" suppliers to get the best "total cost." Provided incumbent suppliers the opportunities to improve price prior to RFQ issuance.
Enabler: Basware (Espoo, Finland, www.basware.com)
Customer: Industrial services provider for the energy market
Project: Process its 220,000 annual invoices quicker and more accurately, reduce paper, and gain visibility into spend and cash flow.
Enabler: Baxter Planning (Austin, Texas, www.bybaxter.com)
Customer: Tolt Solutions
Project: In a three-month consulting engagement, Baxter focused on challenges that Tolt could potentially resolve through a combination of process and software changes. These included increased shipping costs resulting from introducing two new DCs and many intermediate FSLs that also acted as replenishment locations and excess technician inventory attributed to issues related to target stock level calculations, replenishment processes, and the lack of recentralization and redistribution.
Enabler: BizSlate (New York, www.bizslate.com)
Customer: Small women's fashion distribution business
Project: The client can enter hundreds of open stock and pre-pack products in real-time, from user-defined templates, at the click of a button. What previously took a week of work can be completed in less 2 hours.
Enabler: C3 Solutions (Montreal, www.c3solutions.com)
Customer: North American food retailer
Project: Automate centralized appointment desk; reduced labor affected to scheduling by more than 60 percent in the first year.
Enabler: Chainalytics (Atlanta, www.chainalytics.com)
Customer: Avaya, Inc.
Project: Chainalytics created a custom justification/savings calculator based on freight rates & new container loading densities based on new packaging designs & TOPS (Total Optimization Packaging Software).
Enabler: Choice Logistics (New York, www.choicelogistics.com)
Customer: Medical equipment division of a Top 20 global pharmaceutical company
Project: Choice Logistics deployed more than a dozen of its strategic stocking locations (SSLs) in major cities across the United States and Canada and set field stocking levels by part for each SSL. FSEs were trained on new procedures to order parts for delivery to their home or customer site, or for pick-up at the SSL, in as little as two hours, guaranteed.
Enabler: DMI (Demand Management) (St. Louis, www.demandsolutions.com)
Customer: ITW Proline Australia
Project: Network Optimization with better use of distribution assets, including reduced warehouse footprint, process improvement and deployment of warehouse technology to improve order cycle time and order accuracy to customers, and reduced overhead costs.
Enabler: DSSI (Louisville, Ky., www.directsourcing.com)
Customer: Fortune 500 automotive supplier
Project: Onsite people, tools and technology to identify items, count, cleanse and source items. DSSI used its e-procurement system, Epic® to quote and source new items.
Enabler: Eastman Chemical Co. (Kingsport, Tenn., www.eastman.com/Pages/Home.aspx)
Customer: Eastman Chemical Co.
Project: Improved forecast accuracy, optimized inventory and improved total cost of supply chain operations enable the company to better evaluate and understand market needs, resulting in less waste and greater efficiency. The estimated value of the S&OP and effective supply planning improvements is $35 million.
Enabler: Elemica (Exton, Pa., www.elemica.com)
Customer: Syngenta
Project: Implement B2B network for electronic documents communication
Enabler: ESM Solutions (Warrington, Pa., www.esmsolutions.com)
Customer: Ivy Tech Community College of Indiana
Project: Implement an affordable, tailorable and intuitive spend management and eProcurement solution for the college.
Enabler: Eved (Chicago, www.eved.com)
Customer: Fortune 500 Global Technology Provider
Project: Event planners used the Eved marketplace to source and secure their preferred suppliers. They entered the details of their event, created and sent detailed RFPs, awarded business, issued purchase orders, managed the approval process, received e-invoices and made payments. Client saved thousands of man-hours and over $10 million annually
Enabler: 4Sight Supply Chain Group (Paramus, N.J., www.go4sight.com)
Customer: Fortune 100 retailer
Project: The system go-live occurred in phases, with inbound first, followed by outbound without material handling equipment, and then finally outbound fully live with the material handling equipment. The new facility opened in time to support volume for the critical 2013 peak retail season.
Enabler: Gazelle Information Technologies Private Limited (Delhi, India, www.gazelle.in)
Customer: Nuqul Group
Project: Forecast accuracy measured in three major markets comprising 80 percent of Nuqul Group's worldwide sales increased from an average of 78 percent before the solution to 90 percent. Six months after the project went live, inventory cost has been reduced $5 million (annualized).
Enabler: Genco Inc. (Pittsburgh, www.genco.com)
Customer: International medical device company
Project: Company was looking for a 3PL to help with the immediate challenge of inventory accuracy as well as to find a strategic partner to bring the people, process, and technology crucial to the success of its U.S. supply chain network.
Enabler: GHX (Louisville, Ky., www.ghx.com)
Customer: Medical University of South Carolina (MUSC)
Project: Establish and maintain item master data integrity, increase business process automation and improve contract compliance.
Enabler: HICX Solutions (London, www.hicxsolutions.com)
Customer: Randstad Sourceright
Project: Implemented an enterprise supplier management solution to enable Randstad to streamline and improve their internal and customer facing procurement operations.
Enabler: HighJump Software (Minneapolis, www.highjump.com)
Customer: Lojas Renner
Project: To support its growth, the apparel retailer replaced its home-grown WMS with a flexible, best-of-breed solution at its newest and largest DC. With the ability to fully manage all warehouse systems, the company has achieved a higher rate of operational productivity that supports its rapid growth.
Enabler: Hyster Co. (Greenville, N.C., www.hyster.com)
Customer: Estes Express Lines
Project: Uptime has increased dramatically, enhancing productivity at the loading docks, which helps Estes maintain their reputation of being the solution for quick and efficient delivery services.
Enabler: InfinityQS International (Fairfax, Va., www.infinityqs.com)
Customer: General Cable
Project: Standardize production data analytics across its global manufacturing base and further improve the ability to control process variation from plant to plant.
Enabler: Insight Inc. (Manassas, Va., www.insightoutsmart.com)
Customer: Large fruit & beverage producer
Project: Distribution network redesign to optimize the network and reduce carbon emissions and transportation costs.
Enabler: Insite Software (Minneapolis, www.insitesoft.com)
Customer: Merial Corp.
Project: To bring together multiple geo- and market-based business units using one technology platform to streamline their operations.
Enabler: Integration Point (Charlotte, N.C., www.integrationpoint.com)
Customer: Volvo Group North America/Mack Truck Inc.
Project: Maintain compliance with U.S. government regulation to provide information for inbound shipments 24 hours in advance; manage compliance for finished vehicles exported from the United States, along with parts being shipped to Venezuela and Australia for assembly.
Enabler: Intelligrated (Mason, Ohio, www.intelligrated.com)
Customer: Wyoming Liquor Division
Project: Voice picking solution implementation
Enabler: ISM Services (Tempe, Ariz., www.ism.ws)
Customer: PulteGroup
Project: PulteGroup redefined the way the purchasing function operates by delivering much more value to their homebuyers through consumer driven floor plans at a lower cost. The ISM Services program was designed to integrate with the new organizational design.
Enabler: John Galt Solutions (Chicago, www.johngalt.com)
Customer: Post Foods
Project: Enabled hedging strategies to reduce procurement costs for raw materials. Reduced changes in production schedule and improved planning process.
Enabler: Jump Technologies (Eagan, Minn., www.jumptech.com
Customer: ImpactOffice
Project: Saves ImpactOffice $105,000 annually in paper-related administration, driver, and vehicle costs of delivery, reduced customer service costs by about $30,000 per year, reduced customer service call time for proof of delivery inquiries by nearly 75 percent and eliminated all delivery-related paper filing
Enabler: Kinaxis (Ottawa, Ont., Canada, www.kinaxis.com)
Customer: NCR Corp.
Project: NCR wanted an end-to-end S&OP process to reduce inventory levels and expedited freight costs as well as improve forecast accuracy.
Enabler: Lean Logistics (Holland, Mich., www.leanlogistics.com)
Customer: King's Hawaiian
Project: Optimize transportation resources and spend by effectively managing the transportation sourcing, planning, decision-making, execution, communication, settlement and measurement.
Enabler: LlamaSoft (Ann Arbor, Mich., www.llamasoft.com)
Customer: Global athletic shoe/apparel retailer
Project: Provide detailed view into capacity within company's four primary European DCs to improve resource utilization and support monthly S&OP planning
Enabler: Logistix Solutions (Herndon, Va., www.logistixsolutions.com)
Customer: Leading food distributor
Project: Identified a number of processes and technology changes which have the potential to yield a reduction of logistics spend of more than $1 million.
Enabler: Manhattan Associates (Atlanta, www.manh.com)
Customer: J&P Cycles
Project: Support a full retail operation enabling the company to manage shifting priorities and keep inventory in a cost-efficient balance across all channels.
Enabler: The Mpower Group (Oak Brook, Ill., www.thempowergroup.com)
Customer: Higher education for profit institution
Project: Consolidate publishers to achieve short term cost savings. Convince executives that student outcomes should drive engagement. The scope was changed to develop a model for "course of the future."
Enabler: NewEgg.com (City of Industry, Calif., www.newegg.com)
Customer: NewEgg.com
Project: Streamline shipping process to reduce cost and waste while improving efficiency and environmental friendliness.
Enabler: NGC Software (Miami Lakes, Fla., www.ngcsoftware.com)
Customer: Fashion Avenue Sweater Knits
Project: Client now has a collaboration platform that standardizes all PLM/SCM processes, allowing data to be shared seamlessly between users and stakeholders throughout the global supply chain.
Enabler: NPI (Atlanta, www.npifinancial.com)
Customer: Large global retailer
Project: NPI uncovered specific areas of overspending including service selection (sub-optimal use of X-day shipping), unnecessary dimensional weight fees, potential credits, alternate regional carrier options, and carrier rate reduction targets.
Enabler: Oz Development (Westboro, Mass., www.ozdevelopment.com)
Customer: Freeflow Wines
Project: Provide the visibility, scalability, and automation they needed to meet growth. They have 150 wine growing partners, 350 SKUs, serving 43 states and 180 distributors.
Enabler: Performance Consulting Associates (Duluth, Ga., www.pcaconsulting.com)
Customer: Global biotech company
Project: Comprehensive inventory of all spare parts; Requirements of FDA's Consent Decree met in all aspects: (a) compliance with good manufacturing practices (b) Consent Decree timeline requirements met (c) All GMP practices in place, operating, and defined in company-approved Standard Operating Procedures
Enabler: PINC Solutions (Alameda, Calif., www.pincsolutions.com)
Customer: Daimler Trucks North America
Project: Speed truck production, improve inventory visibility and reduce detention fees
Enabler: Prime Advantage (Chicago, www.primeadvantage.com)
Customer: Cres Cor
Project: Cres Cor leveraged relationships with its supplier network of direct and indirect goods and services to help position the company for continued growth and success at a time when many equipment makers are making cuts.
Enabler: Quintiq Inc. (Philadelphia, Pa., www.quintiq.com)
Customer: Vlisco
Project: Implement optimized planning and scheduling solution that accounted for high volume orders each with multiple individual treatments.
Enabler: Ryder System Inc. (Miami, www.ryder.com)
Customer: Automotive company
Project: Customer reduced overall transportation and distribution costs by $8 million, exceeded savings guarantee for three consecutive years while achieving 104 percent of corporate sales/shipping goal in warehouse, cut average overtime from 3 percent to .09 percent, reduced labor costs by 15 percent and increased throughput by 180 percent in the new warehouse.
Enabler: SciQuest Inc. (Cary, N.C., www.sciquest.com)
Customer: FMC Technologies
Project: Suppliers now have a single set of information based on performance, regions are running their business consistently across the world based on standard metrics, and category managers are deploying meaningful strategies to meet business objectives.
Enabler: Smart Software (Belmont, Mass., www.smartcorp.com)
Customer: NKK Switches
Project: Convince Asian suppliers to build to forecast rather than building to order, to dramatically reduce lead time.
Enabler: Source One Management Services (Willow Grove, Pa., www.sourceoneinc.com)
Customer: International steel products manufacturer
Project: Improve its sourcing process without the addition of in-house resources.
Enabler: Stamps.com (El Segundo, Calif., www.stamps.com)
Customer: Stamps.com
Project: Provide mailing/shipping solution that allows supply chain organizations ability to manage postage spending for multiple offices from one centralized location.
Enabler: Tools Group (Boston, www.toolsgroup.com)
Customer: Granarolo
Project: The Italian dairy brought its average forecast reliability from 80 to 85 percent, with a peak of about 95 percent for fresh milk and cream and 88 percent for yogurt and dessert. Inventory levels were reduced by more than 50 percent, cutting capital and lead time in half.
Enabler: TradeStone Software (Gloucester, Mass., www.tradestone.com)
Customer: $1billion-plus specialty electronics retailer
Project: Implemented a quality management solution to ensure compliance of their proprietary brands and improve supply chain efficiency
Enabler: Transplace (Dallas, www.transplace.com)
Customer: Univar
Project: With a user at nearly every one of the company's more than 100 ship points, Univar needed a system that could be accessed from multiple locations by multiple people. Univar also deals with a large carrier network.
Enabler: Transportation Insight (Hickory, N.C., www.transportationinsight.com)
Customer: Fabric manufacturer
Project: Using Transportation Insight's Extended LEAN continuous improvement methodology, the company shaved time and cost from its day-to-day supply chain processes. Extended LEAN created a shared competitive advantage for the company and its supply chain partners.
Enabler: UltraShip TMS (Fairlawn, N.J., www.ultrashiptms.com)
Customer: Land O' Lakes
Project: Align best routes with variable pickup windows, reduce man-hours spent planning loads/routes, and integrate order management and telematics.
Enabler: Ultriva (Cupertino, Calif., www.ultriva.com)
Customer: Global biotech/pharmaceutical company
Project: The Cloud-based Lean Factory Management (LFM) software helped the company track and gain control of its sterile equipment inventory by establishing a series of interconnected material replenishment loops between manufacturing usage and supply locations.
Enabler: UPS (Atlanta, www.ups.com)
Customer: UPS
Project: UPS delivers to over 220 countries and everyday each UPS driver can average 120 deliveries. Optimized UPS delivery routes enable UPS drivers to focus on customer service by using advanced algorithms and telematics data.
Enabler: W&H Systems (Carlstadt, N.J., www.whsystems.com)
Customer: Wirtz Beverage
Project: Consolidate operations in three facilities into one new 555,500 square foot distribution center.
Enabler: Witron Integrated Logistics (Parkstein, Germany, www.witron.com)
Customer: INEX Partners Oy
Project: New DC will enable picking of more than 1.4 million units on a peak day, using automated warehouse solutions.
Enabler: Yale Materials Handling Corp. (Greenville, N.C., www.yale.com)
Customer: Nature's Best
Project: Improve overall efficiency through addressing high SKU count, large footprint, long travel times and multiple pick vehicles.
Project Confidential
AFN LLC (Global appliance manufacturer/Logistics/Transportation)
Allen Lund Co. (Global retailer/Enterprise level TMS System)
E2open (Global beauty company/Supply chain network redesign)
eLynxx Solutions (Higher and continuing education/Supply chain management)
eZComm Software (Fortune 500 retailer/ Supply Chain Integration & Infrastructure/ERP)
4Flow (Fortune 200 tier-one automotive supplier/TMS
Fleetmatics Group PLC (Energy/Logistics)
GEP (Footware manufacturer/Procurement)
GT Nexus (Global CPG company/Global inventory and transportation management)
Hasak Cold Storage (Protein powder manufacturer/Reduce container-loading time)
IASTA (Real estate company/Sourcing/Procurement)
IHS (Multiple global customers; information and analytics)
Ingram Micro Mobility (National MVNO/advanced planning & order management)
Insight Sourcing Group (Retailer/Strategic sourcing & spend visibility)
Junction Solutions (CPG company/order fulfillment/ERP implementation)
Netwin Solutions/GTKonnect (Major toy manufacturer/logistics/distribution)
NexTraq (Food & beverage/fleet tracking)
Objectif Lune (South African furniture retailer/Payment/finance
Optricity (Transportation retailer and distributor/Warehouse slotting optimization
Pace Harmon (Fortune 100 telecommunications provider, Outsourced Distribution and Logistics)
Paragon Software (Restaurant distributor/logistics/transportation)
ProcessWeaver Inc. (Semiconductor company/logistics/transportation)
Rapid Ratings (Major motorcycle manufacturer/Financial risk solution implementation)
Retrotech (Large dairy operator/ modernization and retrofitting of hardware/software
Scania (Automotive/supply chain optimization)
ShipXress (Energy company/logistics/transportation)
Tyco Retail Solutions (Fashion retailer/logistics/transportation)
Universal Truckload Services (Engine manufacturer/WMS)
Vocollect by Honeywell (Wholesale distributor/Voice-Directed with WMS Implementation Solutions)
Companies in this article