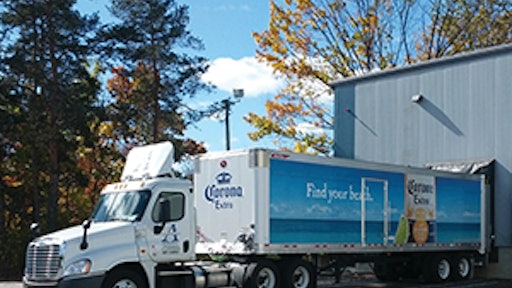 Atlas Distributing, Inc., a wholesale beverage distributor in the central Massachusetts area, saw its usual uptick in business for Super Bowl Sunday, one of America's most popular drinking holidays. Beverages—alcoholic and non-alcoholic alike—flew off the shelves, keeping Atlas particularly busy and focused on making its numerous deliveries in a timely and efficient manner.
The business, which offers craft, import, local and domestic beers, as well as wine, liquor and non-alcoholic beverages, operates under a full service lease agreement with Ryder to help streamline its business operations and keep its customers happy. Ryder provides Atlas with customized equipment created specifically to meet its needs, mechanics who inspect the vehicles in the morning and evening, and available replacement vehicles that enable it to be ready at a moment's notice.
"Most other transportation providers can't replicate this kind of offering," said Atlas' director of operations, Shaun O'Halloran. "Leasing vehicles from Ryder year-round has ultimately enabled us to control costs."
He also said it's helpful, especially in a tough business climate, to have a new fleet every six to seven years after the inevitable wear and tear that occurs. "It's a win-win for us. Ryder covers whatever may go wrong with a vehicle, and at the end of its life, we don't have to worry about disposal."
Atlas, which celebrated its 80th anniversary last year, has a long history of brand acquisitions, including being recently appointed for the Yuengling brand, which moves to Massachusetts in March. As Atlas continues to grow, so too does its fleet size. The business, which has 3,300 accounts during its peak season around the holiday and summer months, added tractor trailers to its fleet for the first time three years ago and is adding four more this year. O'Halloran said that using Cummins' engines on Atlas' trucks was extremely beneficial as well, providing zero emissions, 6 percent better fuel economy and a reduction of 12 metric tons of carbon compared to the brand's 2007 model.
When asked why Atlas turned to Ryder for its services and solutions for the past six years, O'Halloran said, "It's all about the relationships. Ryder gets our business, and ultimately, they keep us up and running."