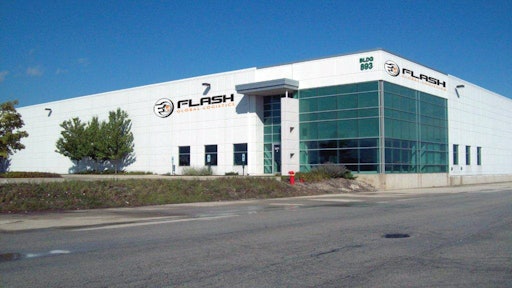 Flash Global Logistics, a global provider of supply chain solutions for mission-critical parts and products, re-located to their new, state-of-the-art Parts Distribution Center (DC) in Chicago to support their company growth.
Located directly on Chicago's O'Hare International Airport property, Flash's Parts Distribution Center encompasses 107,000 square feet of rentable warehouse space to service their fast growing list of mission critical parts clients.
A central location for the processing and management of international shipments, Chicago O'Hare consistently ranks in the top 10 in North America and top 25 in the world in terms of its annual air cargo volume, exceeding one million tons in 2011 and is centrally located next to major interstate highways that serve as a hub to the Midwest and rest of the nation.
The new DC is adjacent to the main airport cargo facility, giving Flash clients nearly immediate access to over 200 daily non-stop locations throughout the world via the major cargo carriers and overnight couriers. The location also allows Flash customers to submit orders even later and still be able to meet flight cut-off times.
The DC employs telecommunications and networking equipment to enhance the speed and quality of all transactions that flow through FlashTrac, the company's service supply chain system for global order and inventory management.
"Our experience with serving a global clientele has enabled us to incorporate many advancements in distribution center technology," said Jim van Leenen, President and Chief Executive Officer, Flash Global Logistics, Mountain Lakes, N.J. "Our clients and prospects have sent a clear message—'provide flexible distribution center space in all markets around the world. Set us up fast without fixed cost and allow for quick expansion when we need it with little to no upfront costs.'"
Best practices gained from globally operating 16 DC's exclusively for mission critical parts have been incorporated into the Parts Distribution Center.
Site logistics
The DC is climate-controlled with an HVAC system and features the latest fire suppression gear that will ensure the protection of client equipment.
The property is patrolled by the Transportation Security Administration for assuring a high level of security.
There are 10 high dock doors to accommodate nearly any size truck, as well as a drive-up ramp for smaller vehicles. Through a partnership with a leading courier service that has an on-site presence, Flash offers clients direct access to24/7 courier services.
In addition to distribution capabilities, the space is configurable to manage special value-added services, including sub assembly, kitting, level-1 testing, reverse logistics and specialized processes' including testing and repair.
Flash's flexible DC model gives customers the ability to expand and contract their space utilization to gain maximum value of square footage requirements with minimal fixed costs.
"Based on the growth that we experienced in 2011 and on our anticipated growth in the next three to five years, Flash has more than doubled the DC space in Sao Paulo, Hayward, Chicago, New Jersey, Amsterdam, Beijing, Seoul and Tokyo in order to support the growth of our clients," said Van Leenen.