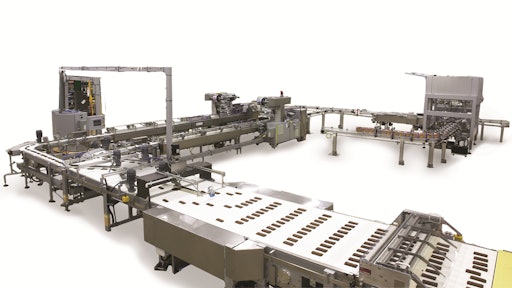 When manufacturers opt to automate their lines to achieve increased outputs or lower manufacturing costs, they are often challenged with the decision of selecting robotics or product distribution conveyers. And while both technologies have their place in modern packaging lines, a number of factors must be considered when choosing between robotics and conveyors—especially when such processes as feeding are involved. These factors include pack configuration, product characteristics and operating environment.
"With technological advances in both robotics and product distribution conveyors over the last several years, many manufacturers struggle to identify an optimal feeding solution," said Jon Otto, Product Manager, Bosch Packaging Technology Inc., New Richmond, Wis. "Bosch is in an ideal position to provide unbiased guidance on this issue because of our expertise in both technologies."
Packaging automation management
For efficient feeding processes, incoming product flow must be properly oriented for feeding into the packaging machine. The speed of incoming product flow and the infeed of the primary packaging machine must be aligned. To better meet these specifications, manufacturers must first consider the their pack configuration which includes the number and orientation of products within a package. Conveyors offer speed advantages for simpler pack configurations like single candy bars while robotics are better suited for more complex styles like multipacks.
Product characteristics should also be evaluated when investing in new automated feeding equipment, including whether the product is delicate and needs to be handled gently or more rugged and can withstand harsher conditions.
When choosing between robotic and conveyor packaging distribution, it is also important to note the environment that the automation machine will be placed into—in addition to the material that is handled within that facility. Sanitation requirements, available floor space and other environmental factors all need to be considered in the manufacturing facility.
The result
Whatever the final decision— conveyors or delta robotics—it is important to take a holistic and comprehensive view and consider all aspects of the packaging line to ensure an optimal solution.
Visit www.boschpackaging.com to for additional details from Bosch Packaging Technology's whitepaper "Packaging Line Automation—Robotics or Product Distribution Conveyors?"