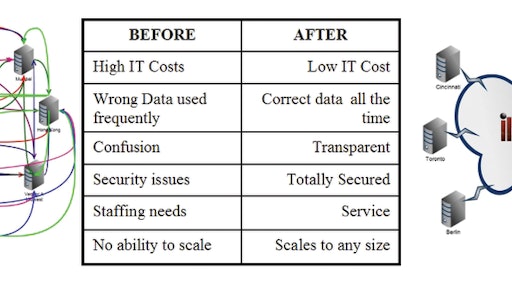 Andover, Mass.—Feb. 23, 2012—Product Lifecycle Management (PLM) software provider Aras now offers Ilesfay cloud-based replication technology for Aras Innovator. Ilesfay Replication identifies and transfers only differences in datasets, reducing necessary time and bandwidth to transmit data between PLM vaults.
"If you want to make better use of your current broadband lines, reduce bandwidth usage altogether and increase the ROI of your infrastructure, Ilesfay Replication for Aras Innovator is a great way to maximize efficiency in the data transfer process," said Chris McLennan, Chief Executive Officer of Ilesfay, Blue Ash, Ohio.
Ilesfay Replication follows the same functional rules as Aras Innovator and serves as a functional add-on for new Aras Innovator implementations as well as those that are already in place. Ilesfay Replication can be used to improve remote vault mirroring and synchronization, establish site cache architectures and onboard new locations or systems.
"As product design becomes simultaneously more collaborative and geographically dispersed, solutions such as Ilesfay's become increasingly critical," said Peter Schroer, President of Aras. "Ilesfay offers Aras users valuable cloud-based replication, collaboration and storage options that can optimize and equalize today's complex, disparate product development environments. We are excited to work with Ilesfay and partners like them to ensure that Aras users can take full advantage of the most advanced technologies available."