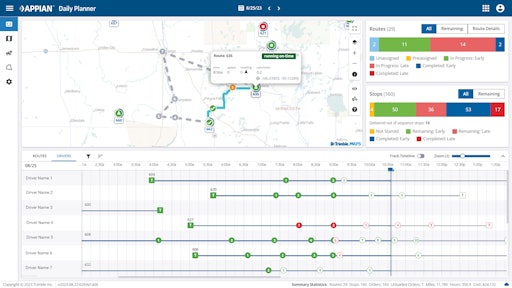 Trimble
Trimble introduced Appian Daily Planner, a cloud-based solution for multi-stop, multi-vehicle route optimization that improves asset utilization, on-time deliveries and customer service.
"Appian is known for empowering fleets to develop optimized, cost-effective routes that meet their business and customer needs," says Steven Kalnitzky, senior product manager for Trimble. "This continued evolution of the Appian suite of tools takes it to the next level, pairing our trusted route optimization capabilities with a dynamic, modern user experience. We're building on Appian's powerful algorithm and deep experience in route optimization to provide modern, user-friendly technology that gives organizational visibility into route plans, order status and fleet activity."
Key takeaways:
Appian

Daily Planner delivers a modern planning experience, designed to streamline and optimize the complex routing needs of multi-stop mixed and private fleets. By combining a highly-configurable interface with the

Appian

optimization algorithm,

Appian

Daily Planner empowers fleets to transition from static, batch routing to a real-time planning approach.

Appian

Daily Planner also adds enhanced asset visibility, enabling dispatchers and fleet managers to adjust and optimize routes in real time—tracking planned vs. actual route progress, while ensuring drivers and route plans are meeting customers' delivery constraints.
With robust decision-assist capability and real-time insights, users are able to determine the most effective routes for all their complex routing needs.
An adaptable solution that enables customers to track and report on KPIs relevant to their specific business.
Visual cues and proactive alerts provide dispatchers the key metrics needed to quickly track actual route performance against plan in real time.