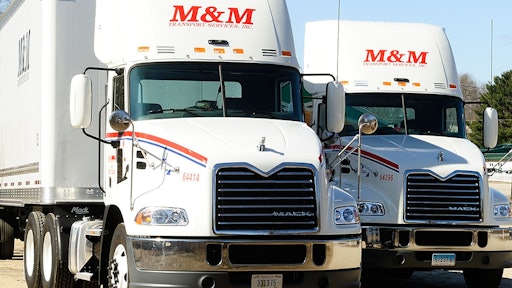 M&M Transport Services, LLC
Schneider National, Inc. acquired M&M Transport Services, LLC, a dedicated contract carrier that primarily provides specialty solutions for the retail and manufacturing verticals.
"By combining our respective expertise, knowledge and resources, we will be better positioned to meet the evolving needs of our customers and expand our reach in the Dedicated market," says Schneider president and CEO Mark Rourke. "This is an exciting opportunity to leverage the best of both companies and use our complementary capabilities to deliver enhanced value to our customers and stakeholders."
"Both companies have a successful history of Dedicated operational excellence, a reputation for superior customer service and a common foundation of core values – so our cultures are an excellent match," says M&M Transport founder Mark Warsofsky. "Now, as a wholly owned subsidiary of Schneider, M&M Transport will continue to leverage our strengths while capitalizing on Schneider's broad capabilities and resources to support continued growth and the consistent, reliable service that our customers expect from M&M Transport."
From BusinessWire:
M&M Transport deploys approximately 500 trucks and 1,900 trailers across 12 locations in the Northeast, Midwest and Southwest.
The acquisition further complements Schneider's dedicated organic growth success and places Schneider on a glidepath toward $1.5 billion in annual dedicated contract revenues and 6,500 dedicated tractors in service.
M&M Transport will operate as a wholly owned subsidiary of Schneider.