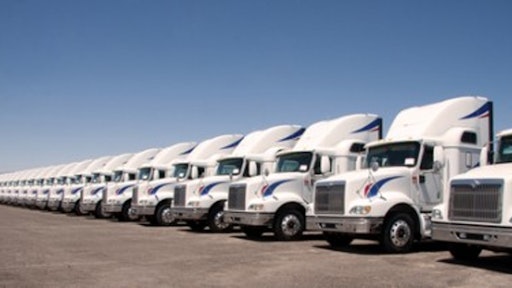 Getty Images
The big takeaway from COP27 is that it's time to accelerate efforts to tackle climate change following a year of climate-related disasters and broken temperature records.
The private sector is increasingly committing to working side-by-side with governments to deliver bold climate action. The Alliance of CEO Climate Leaders, in connection with COP27, encouraged all business leaders to set science-based targets to halve global emissions by 2030 and reach net zero by 2050 at the latest.
To follow through on these aggressive goals, companies have to phase out fossil fuel use and invest in low-carbon technologies and other sustainable strategies. The global transportation sector is a major polluter. The U.N. estimates that the industry is responsible for about one-quarter of greenhouse gas emissions from burning fossil fuels in cars, trucks, ships, trains and planes. In the United States, the transport sector is responsible for an even greater share of emissions (27%), according to the Environmental Protection Agency.
The good news is that we're charging ahead with electric vehicles (EVs), a key technology to decarbonize road transport. Recent years have seen exponential growth in the sales of battery-powered vehicles together with improved range, wider model availability and increased performance. According to the International Energy Agency, global electric car sales reached a record high last year, despite supply chain bottlenecks.
By contrast, long-haul trucking, long-haul shipping and air travel will likely be the last frontiers of electrification. But, the challenges for electrification in moving freight are immense. The larger the battery, the less cargo the truck can carry. The heavier the cargo, the shorter the driving range. For EVs to become a reality in heavy-duty trucking, the industry needs improvements in battery technology, vehicle efficiency and a more robust network of accessible, high-power charging.
Technology alone won't allow companies to meet their transportation sustainability targets in the near term. Reducing emissions from transportation will require a broad range of strategies. In the ground transportation space, companies can make a more immediate impact by incorporating small truckload (STL) services in their transportation management mix.
What is small truckload?
STL shipping refers to transportation services that use vehicles smaller than standard 53-foot semi-trailers, including sprinter vans, cargo vans, box trucks and straight trucks. Unlike traditional small vehicle logistics, which are primarily focused on shorter distances, STL can be utilized to transport shipments locally, regionally and even coast-to-coast. STL services can be used to transport both dry or refrigerated shipments of up to 14 pallets, providing shippers with a range of options depending on the goods they are shipping.
Every STL load is a dedicated load. Shipments from multiple shippers are not intermingled on a single trailer, as is the case with less than truckload (LTL) freight shipping. This not only enhances speed of delivery, but also mitigates the risk of overage, shortage and damage, or over, short and damage (OS&D) because dedicated loads are only touched twice: when loaded at the point of origin, and when unloaded at the final destination.
STL offers shippers significant environmental benefits when compared to traditional truckload (TL) and LTL shipping. Within the U.S. transportation sector, medium and heavy-duty trucks account for more than one-quarter of greenhouse gas emissions, right behind passenger cars and trucks.
STL shipping is rooted in the idea of "right sizing" the truck to a shipment. Some e-commerce retailers won't ship a tube of toothpaste in a box meant for a large appliance. Why ship just a few pallets in a 53-foot semi? That's an awful lot of empty space. It's simply not efficient, and it's the shipper that ultimately pays for that inefficiency. When shippers utilize STL, they are paying for the vehicle that they actually need.
For a shipment of up to three pallets, a standard sprinter van can do the trick. Sprinter vans are as much as 2.5 times more fuel efficient than semi-trucks, so they emit 2.5 times less carbon dioxide into the atmosphere. Box trucks can carry up to seven pallets and a straight truck can carry up to 14 pallets, meaning any shipment up to 14 pallets that you might place on a semi-truck can be more affordably and sustainably transported by a smaller vehicle.
As an added bonus, cargo vans are electrifying at a much faster rate than heavy-duty trucks. Some of the biggest automakers have introduced or are about to roll out all-electric cargo vans in North America. The growing demand for last-mile delivery fleets also has encouraged newcomers to enter the market. While electric cargo vans currently have limited range, they're great for expedited deliveries between warehouses and distribution centers.
We're at a pivotal moment in the fight against global warming. While new technologies give a path toward carbon-free transportation, we can make better transportation choices today to maximize reductions in carbon pollution. Small truckload solutions are one of the easiest and most immediate ways for shippers to reduce their greenhouse gas emissions and make progress toward their long-term sustainability goals without waiting for new technologies to mature.