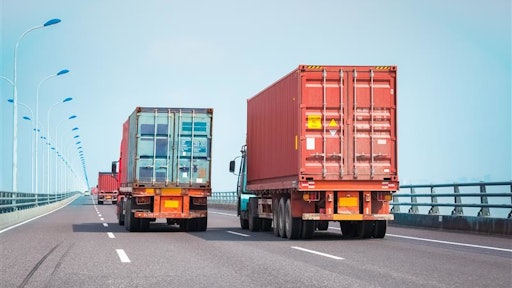 chungking - stock.adobe.com.jpg
A national trucking crisis with a shortage of more than 80,000 truck drivers has industry execs scrambling to appeal to Gen-Z and Millennial workers. According to a recent study from the American Trucking Associations, if this trend continues, the trucking industry would have to recruit nearly 1,000,000 new drivers over the next decade to replace retiring drivers, drivers that leave voluntarily or involuntarily, as well as attract additional drivers needed for industry growth. With the pandemic shifting employee expectations about work, how exactly can the trucking industry meet those expectations?
Growing the driver workforce will require investments in technology, training, safety and job quality to improve recruitment and retention. Age is also a factor for the industry. The U.S Bureau of Labor Statistics estimates that the average American truck driver is 55 years old. With the baby boomers retiring, fleet managers should take proactive steps to attract workers from younger generations and help them view trucking as a viable career option.
If businesses want to attract new workers and more importantly, attract millennials and Gen-Z to the trucking industry, they should consider the following approaches:
Improve trucking lifestyle
The pandemic changed not only how we work but also employees' expectations. Now, younger generations value work-life balance and are choosing companies that more closely align with their values. Trucking often means long hours and several days away from home. In order to address these shifting concerns, trucking companies should allow for flexible schedules to support drivers going back to their families and friends on the same day at the end of their shift. This can be done using relay driving where drivers meet at midpoint, swap trailers, and return home.
Communication and mentorship
Driving means spending a lot of time on the road, making it difficult for young drivers to build relationships with coworkers and take advantage of mentorships. Companies should invest in processes that provide training buddies for new drivers and check in on them regularly. This will also help promote social interactions that younger drivers value and foster a better sense of comradery among workers.
Better equipment
Truck drivers often choose companies that have better truck and trailer equipment. Giving truck drivers what they need to succeed will save them from headaches with repairs and mechanical issues with older fleets. From a company perspective, they are able to increase their efficiency and worker retention rate with better truck and trailer equipment. Phasing out the old trucks in favor of newer trucks with better comfort and smoother rides can also help to attract younger workers.
Automatic logging technology
Electronic logging devices can track various activities associated with driving and eliminate cumbersome paperwork that drivers need to do. Similarly, electronic vehicle inspection reports also help reduce repetitive tasks and make young drivers' jobs easier. Long haul drivers are usually paid by the mile, which means they don't get paid for the time waiting at the locations for loading and unloading. Companies should consider compensating the drivers for detention and electronic logging devices can help track the detention time more efficiently.
Adopt truck driving friendly navigation systems
Driving can be made easier for younger drivers by adopting the right GPS navigation system. Trucking companies should use navigation systems, intended for use by professional truck drivers, that provide routing guidance based on bridge and road height and weight restrictions. It's also important for these GPS systems to have maps that are automatically updated and have capabilities like routing around traffic congestion.
Route optimization
Sustainability concerns are top of mind for the younger generation. Route optimization software helps reduce and measure the carbon footprint through improved algorithms and analytics capabilities. Route optimization technology also helps create more effective routes that reduce the time drivers need to spend on the road.
Advanced driver assist systems (ADAS)
ADAS technologies make driving safer by identifying and safely navigating dangers on the road. ADAS technologies include adaptive cruise control, automatic braking and steering to prevent collisions, parking assist, and adaptive map that predicts the path and alerts the driver to the dangers ahead. For younger drivers, ADAS technologies improve reaction time and promote safer driving habits.
Young brand ambassadors
Showcase the younger drivers working at your company to inspire others to also join the industry. There is a prevailing notion that trucking is for older males. Companies can counter this perception by highlighting younger generations of drivers from the company as brand ambassadors.
The world needs truck drivers. They make modern life possible. The truck driver shortage can be mitigated by tapping younger talent. But in order to foster a new generation of truck drivers, companies must adjust to meet new worker expectations in order to be successful now and beyond.