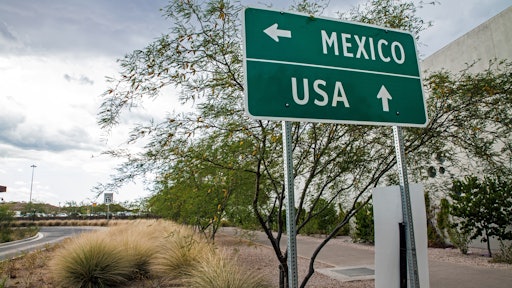 ChristinaFelschen/stock.adobe.com
Over the past decade, trade between the U.S. and Mexico has grown exponentially. After a tumultuous 2020 and 2021, freight volumes between them continue to rise, with $82.1B in freight moving across the border in May 2022 alone. This represents a 26.3% increase over May 2021. Shippers have always known that cross-border freight is a critical part of the global supply chain but now it's clearer than ever before.
However, reward never comes without a challenge. When shippers manage cross-border freight, it can be challenging to navigate each country's unique regulations and restrictions, all of which can increase the potential for supply chain disruption. The smallest overlooked detail can delay a cross-border shipment, jeopardizing delivery dates. Ultimately, shippers can avoid disruptions and save wasted time and money by maintaining a sharp eye for key details, a flexible supply chain and agile logistics partners. The first step to implementing a strategy that works across borders is staying up to date on government regulations, on both sides of the border.
Looking Ahead: Potential for Policy Disruptions
While U.S. truckers strike in California and national trade policies continue to evolve, Mexico is having its own set of hurdles that may impact the global supply chain. On August 1, 2022, the National Customs Agency of Mexico (ANAM) began implementation of a new required shipping document called a Crossing Notice, which intends to clear goods before they reach the country's customs via a web portal. The Crossing Notice is intended to ultimately replace the systems currently in use (the Mexican Technology Integration Project and the Document of Operation for Customs Clearance).
While the new policy represents a step forward in modernizing the customs system, implementation is not without challenges. For example, the new Crossing Notice policy requires that trucks crossing the border display a TAG radio frequency sticker to the windshields of their vehicles. However, the TAGs are not yet widely available, causing some confusion among drivers and cross-border agents, as it is unclear whether they will be able to cross the border without them. As a result, a grace period for the month of August 2022 was established while implementation continues. It's to be expected that shippers, who had become accustomed to the previous rules and regulations, will need time to adjust to the new system.
The challenges related to the implementation of the Crossing Notice are familiar to shippers that routinely ship goods cross-border. Shippers faced similar issues in January 2022 with the roll-out of the Complemento Carta Porte, which is intended to supplement the electronic bills of lading that have been in use in Mexico for over a decade. While Carta Porte was fully implemented on January 1, 2022, the ability of the Mexican government to enforce the measure has lagged, pushing the grace period for compliance to September 2022, and perhaps further.
Navigating new regulations aren't the only challenges to managing cross-border shipments, and disruptions at the border can often have a ripple effect across the entire supply chain. Unpredictable and extraordinary volume fluctuations, lower consumer spending and high gas prices have made it difficult for shippers to predict where the ripple effect will start and end. In instances of imminent uncertainty, shippers should look to their multimodal third-party logistics providers for an objective point of view and creative solutions– especially when managing policy adjustments and potential economic challenges in not one but two countries.
When it comes to cross-border regulations, change is the only constant. However, there are tried and true best practices that shippers can rely on in even the most challenging environments. Here are four key components to a successful cross-border freight strategy:
Prioritize Preparation
As noted above, shippers are required to follow a plethora of regulations and provide multiple forms of documentation. Details matter. Work with your cross-border logistics partner to ensure that the commercial invoice, bill of lading, import/export forms and other documents are filled out completely and correctly. Don't let stray details delay your shipment. In times of disruption, preparation trumps proactive adjustments and quick thinking. Once a disruption passes, shippers must take time to reflect and identify the processes that worked best, and to tweak those that did not. Even more importantly, they can use past experiences to anticipate problems and discuss future solutions with their logistics partners before the next challenge occurs.
Take Advantage of Technology
With the numerous-fast moving and interlocking components of the cross-border freight process, visibility is a necessity for efficient operations. Today's logistics technology offers solutions that can keep your shipments on track. Onboard telematics can track your shipment from pick up to delivery, including through the cross-dock operations that frequently take place when crossing the border. When integrated with a Transportation Management System (TMS), shippers gain not only visibility but the ability to manage via exception, and focus their energies on the shipments that need urgent attention. Improved shipment visibility can also facilitate supply chain optimization, security and enhanced decision-making.
Maintain Open Lines of Communication
When it comes to cross-border shipping, there is simply no such thing as too much communication. In addition to clearly communicating your priorities to your logistics provider, coordinating all the key players that will touch your shipment from pickup to delivery is essential. An experienced cross-border logistics provider with an on-the-ground presence in Mexico is your best bet for managing communications with Mexico-based customs agents, carriers and drivers.
Harness Multimodal Solutions
While trucking is a focus in cross-border freight, it is not the only mode of transportation shippers can utilize to move shipments across the border. For example, when border delays threaten timely delivery, it's not uncommon for shippers to turn to their logistics providers to charter cross-border air cargo flights. Working with a provider that can offer the ability to shift modes in the face of cross-border shipping delays can be the difference between hitting, or missing, a delivery deadline.
As policies and regulations continue to evolve, consumer demand fluctuates and the global supply chain relies on cross-border shipping more than ever, shippers must rise to the challenge. Engaging a multimodal 3PL partner with extensive cross-border experience that can offer scale and sophisticated data analytics is essential to the success of your cross-border supply chain.