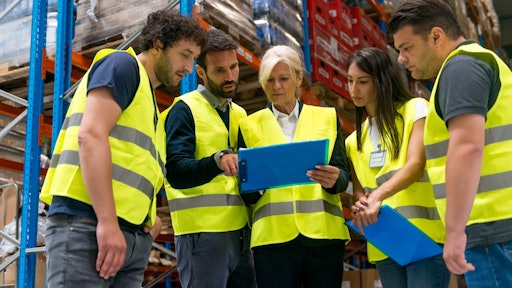 StockRocket/stock.adobe.com
Deloitte calls the widespread U.S. warehouse labor shortage "the manufacturing workforce conundrum." During the initial pandemic lockdown, approximately 1.4 million manufacturing roles were eliminated, erasing more than a decade of U.S. manufacturing job gains.
Although the industry hired back 820,000 people for these vacated positions by the end of 2020, half a million openings remain today. Worse yet, the warehousing sector expects to experience 2.1 million unfilled jobs by 2030. And while automated warehouse technology and industrial robots certainly help lessen labor-shortage woes, they can't replace people. Consequently, warehouse leaders must find better methods to attract and retain hard-to-find warehousing and supply chain talent.
One approach is by introducing greater flexibility, particularly when it comes to how employees receive their pay.
The supply chain still needs humans
More than 2.7 million industrial robots are being used worldwide, including automated mobile robots (AMRs), fixed robotic arms and autonomous-guided vehicles. Although these machines move pallets, materials and finished goods through warehouses and take on many repetitive, time-consuming and labor-intensive tasks, humans still help produce most goods. Warehousing technology enables management to redeploy workers elsewhere to take on more sophisticated responsibilities.
Even as automation is on the rise, manufacturing executives surveyed by Deloitte say attracting talent is 36% harder today than it was in 2018. This includes entry-level and skilled positions.
Retention is difficult, too, especially since many warehouse employees – with a median age of 44.2 – could switch industries or retire in the coming decade. Consider, too, when a nearby warehouse position comes with higher pay and better benefits, it's tough to stay competitive.
Workers want more of everything
Even before the pandemic and subsequent Great Resignation, workers were demanding economic justice with higher pay and better conditions, especially, improved benefits and less dangerous/uncomfortable working conditions.
For example, those performing repetitive or intense physical work in a cold storage unit with sub-zero temperatures or a warehouse lacking air conditioning have always had high attrition rates, but the pandemic and Great Resignation have only made the situation worse.
Too often, these employees miss out on the perks that come standard with full-time roles, such as disability and life insurance, dental and vision coverage, retirement funding, educational aid and paid time off and sick leave. 50% of employee respondents to a 2021 American Psychological Association survey said that lack of paid time off or sick leave impacted their stress levels at work.
Now, nationwide, these employees are finding their voice. Their expectations include:
Better pay and benefits
A career path
Job security and safety
A pleasant, fair, and equitable work environment
Respect for workers' rights
With inflation and the overall cost of living sky-high, employees are having trouble making ends meet. At the beginning of 2022, 64% of Americans were living paycheck to paycheck.
Given the manufacturing talent shortage, warehouses must search for better ways to incentivize their employees to help them meet their financial obligations. Doing so is a win-win for manufacturers and employees as it can help improve hiring and retention and boost productivity and job-related satisfaction.
How flexible financial solutions can help
Providing higher pay to attract and retain more manufacturing employees is important, but not every company has the deep pockets to do so. Offering financial literacy education along with flexibility in benefits and pay can help.
A recent Workplace Well-Being survey revealed workers aged 25 or younger are almost twice as likely to want financial planning services as employees who are 56 and older. In fact, employers providing financial literacy education that includes solutions like earned wage access (EWA) are becoming more popular among employees of all ages.
EWA, also known as on-demand pay, allows warehouse employees to access their pay right after a shift. Seventy-nine percent of workers surveyed said they would be more willing to leave their employer for a company offering EWA. And 56% of adult respondents to a comparable survey had used EWA during the previous year, indicating that its popularity is rising.
By offering immediate access to their employees, this solution provides a means for manufacturers to attract and retain employees as it helps them pay their bills quickly and provides a financial planning component – an app – that helps them increase their financial wellness. For example, employees can track their spending habits, set goals and learn to budget better.
With many EWA solutions, money can be loaded to a pay card and is accessible immediately.
Transform how workers are using EWA
Manufacturers that hamstring themselves by only offering low-wage jobs, unattractive benefits and inflexible schedules will lose the war for talent.
But supply chain professionals in manufacturing and warehousing can bolster their benefits through solutions that can help their employees get a step closer to financial wellness by enabling them to access their wages when needed rather than waiting for a payday.
Such tools can power workplace transformation by offering a benefit their competitors don't. EWA can help attract and retain difficult-to-find warehouse employees to fill open positions and in doing so, they're in a much better place to operate at full capacity and get their products more efficiently in and out the door.