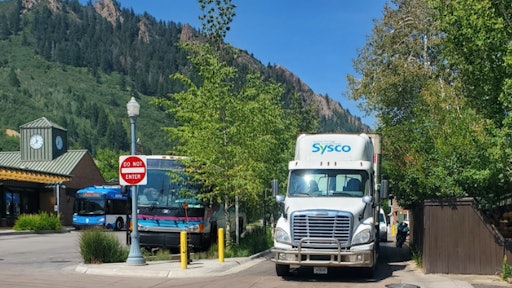 Coord
The City of Aspen today released initial findings of its first-ever Smart Zone pilot program to better manage the city's curbs, done in partnership with Coord, a leading curb management company, following the pilot launch in November. In its first month, the pilot program has already generated valuable data to inform the City's curb management strategy and to create more efficient and safe streets for people and businesses alike. Twenty-eight fleets, representing a mix of regional and national companies, are already participating in the program.
Smart Zones, powered by Coord's technology, provide advanced intelligence about loading space availability to commercial drivers on the mobile devices they already use every day. Drivers use an app to locate nearby available loading zones and to hold, book, and pay for time in them. While providing drivers with information and incentives to load in safe and legal locations, Smart Zones also improve mobility for everyone visiting the downtown by reducing safety and congestion problems, such as double-parking and blocked pedestrian access.
Coord's Smart Zones provide the City of Aspen with information that is essential in empowering the city to make data-driven operational changes. Based on hundreds of bookings that took place during the first month of Smart Zone operations, the City found:
Fleet Adoption
Driver Use of Advance Curb Intelligence
In nearly 40% of bookings, the driver used the Smart Zone system's "hold" function, allowing the driver to reserve the Smart Zone 10 minutes prior to arrival. In the other 60% of bookings, drivers spontaneously booked when they arrived at an available Smart Zone.
Popular Loading Times
Smart Zones are active from 7 a.m. to 6 p.m. Monday through Saturday. However, the most popular times of day for loading and unloading are between 9 a.m. and 11 a.m. 11 a.m. through 1 p.m. are the next busiest times of day.
Although initial data suggests little loading activity past 2 p.m., the City will continue to monitor this trend to see if it persists during the busy winter season.
Popular Loading Days
Tuesday and Friday are by far the most popular days of the week for loading, followed by Monday.
Wednesday and Thursday are the quietest days in Aspen for loading. Aspen sees only about half as many loading events on these days as it sees on Tuesdays.
Duration of Loading Activities
The average stay at a Smart Zone is 34 minutes. The most common amount of time a driver books is 30 minutes, followed by 60 minutes.
Although prices are constant throughout the day, a smaller share of vehicles begins loading early in the day. These early bird vehicles tend to load for longer periods of time. Vehicles arriving between 7 a.m. and 8 a.m. on average load/dwell for about 80 minutes. Average dwell time decreases considerably as demand for the zones increases in the 9 a.m. to 11 a.m. time period.
On heavy snow days, bookings shift later in the day and the average amount of time spent loading decreases by almost 6 minutes.
Location of Loading Activity
Two alley Smart Zones were among the most popular locations: the alley at 300 West (near Matsuhisa) and the alley at 400 West (near Mi Chola).
The most popular curbside Smart Zones so far are located at 300 East Hyman (S side, by the Wheeler), 200 South Galena (E side, by Ute), and 400 South Galena (E side, by Belly Up).
The City of Aspen will continue to monitor the program and will use the information it generates to modify Smart Zone locations, days and hours of operation, pricing and time limits to optimize commercial drivers' ability to efficiently find safe and legal loading space when and where they need it. In some cases, when it's demonstrated there is not a demand for loading space, the City will allocate more space to other uses, such as parking.
"I am very happy with the support of the delivery trucks, the community and the businesses during the successful first 30 days of the Smart Loading Zone pilot," said Mitch Osur, Director of Parking at the City of Aspen. "The data collected has been very enlightening and we have learned some things already that we will put in place soon. I look forward to the next 60 days of data and the new things we will learn."
"We were very happy with the Smart Zone program's first month in Aspen, Colorado" said Dawn Miller, Coord's VP Policy and Partnerships. "Drivers and fleets started using Smart Zones right away, and more are taking advantage of the program each week. The City's plan to use program data to optimize when, where and how much loading space they provide is music to my ears."
Aspen was selected by Coord as one of four U.S. cities to participate in the company's inaugural Digital Curb Challenge to undertake a brand new curb management program. The City of Aspen deployed 11 Smart Zones--seven curbside and four in alleyways--in its downtown.