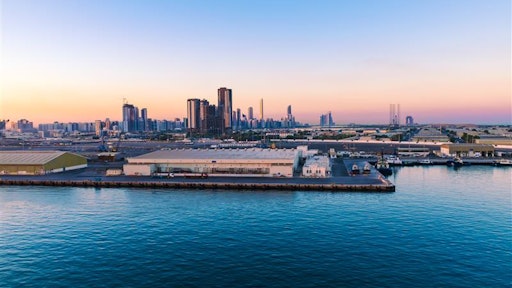 napa74
Khalifa Industrial Zone Abu Dhabi (KIZAD), a subsidiary of Abu Dhabi Ports, has announced the appointment of the Logistics Executive Group as one of its official representatives for products and services outside the UAE, in a bid to support its efforts in attracting new business.
The Middle East's largest industrial zone, KIZAD offers a competitive advantage to customers through a tax-free environment in a designated free zone, as well as mainland industrial zone solutions. Low operating costs, and the advantage of multimodal connectivity that links directly with two major seaports, and four major international airports within a two-hour driving distance lend to the increased competitive advantage KIZAD customers enjoy.
KIZAD is a key economic driver for the UAE and Abu Dhabi, and plays a major role in attracting FDI for the country.
Commenting on the importance of the appointment, Khalid Al Marzooqi, director commercial, KIZAD said: "From its founding, KIZAD has offered its customers unparalleled access to global markets as well as advantages across a range of factors including the speed of access to markets, low setup and operating cost, the ease of scaling their business, and the ability to be part of a vibrant business ecosystem. As a result, we have become the preferred option for many companies looking to establish a hub within the Middle East.
"In addition to serving as the first point of contact for new business coming from various countries, Logistics Executive Group's rich insider knowledge of the local markets will support us in devising novel solutions that attracts the interest of prospective foreign investors."
Kim Winter Global CEO Logistics Executive Group commented: "Logistics Executive Group is proud to be appointed by KIZAD as an International Representative and will leverage its' 21 years of customer relationships across key markets including the APAC region to provide a full-service platform for businesses seeking to access the Middle East / Africa via KIZAD's excellent geographic hub location."
"Since establishing operations in the UAE in 2005, we have been facilitating international customers by marketing their services and products into the MEA region, and we are excited to be invited to partner with the UAE's premier industrial zone to enhance the services we offer," said Winter. "The UAE's investment in food security, sustainable industries and into infrastructure, particularly KIZAD offers organisations a base with strong global connectivity to new and existing markets, making it a highly attractive".
KIZAD has recently broken ground on several development projects including an additional 5 million square feet of warehousing space in large flexible blocks to give occupiers the freedom to move into modular and scalable warehousing units from 3,000 sqft to 525,000 sqft customised to their business requirements.
Moreover, with the UAE's aim in becoming a leading hub for the food sector, KIZAD is laying great emphasis on developing food-related infrastructure, including warehouses and expansive cold store facilities. Several projects are underway to bolster the already advanced logistics capabilities available at KIZAD.
KIZAD's cluster-based approach creates an ecosystem and a circular economy that sees customers are physically close to other upstream and downstream industries within the zone.
Companies in this article