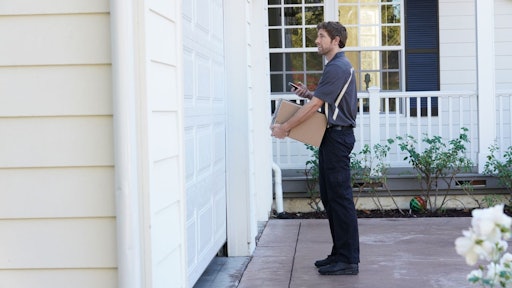 Amazon has new products, features and services supporting Key by Amazon, which puts security, convenience and control in the hands of the customers while being key-free. New offerings include the all-new Schlage Encode Smart Wi-Fi Deadbolt, the first WiFi-enabled smart lock for Key; Key for Garage with Chamberlin Group (CGI); compatibility with the Ring app for access control and Key for Business, a smart fob for drivers delivering Amazon packages to commercial and residential properties.
"For the past year, we've been thrilled to see how customers have benefited from Key by Amazon. We started with the idea of in-home package delivery and quickly learn that our customers found peace of mind and delight from the control Key gives them over their most important place - their homes- even when they aren't there themselves," says Rohit Shrivastava, GM of Key by Amazon. "Key puts security, convenience and control in the hands of our customers and we are excited to expand Key and open up more possibilities for them."
The Schlage Encode Smart WiFi Deadbolt is the first WiFi-enabled smart lock for Key, offering an innovative, easy-to-use option for customers. It makes managing access incredibly simple - all you need is WiFi and the Key app to install and start managing comings and goings, no mater where you are.
"Even with all the advancements in the category, we recognized there was still a gap in simple, secure, high performance and cost-effective, all-in-one access solutions," says Lee Odess, vice president of Solutions Providers Business at Allegion, the maker of Schlage locks. "Schlage Encode was designed to provide homeowners with one trusted device - no gateway or hub needed - that could make keyless entry simpler and more convenient than ever before."
Key for Garage will allow customers to monitor and control their garage door through the Key app. In addition to receiving deliveries at home and in your car, eligible Prime members can also get deliveries in their garage. Key for Garage is made possible by integrating Key with CGI's proprietary myQ-connected technology.
"A self-contained extension of the home, the garage offers a convenient destination for delivery hurdles such as potential theft and missed deliveries. We are proud to collaborate with Amazon on this game-changing in-garage delivery initiative," says Jeff Meredith, CGI President and chief operating officer. "Our leadership in garage access control and superior network of retailers and installing dealers, combined with Amazon's innovation, means Prime members now have a new secure delivery option for all of their purchases, and all customers can enjoy complete control over their garage, one of the home's primary access points.
The Schlage Encode Smart Wi-Fi Deadbolt is available for pre-order for $249.99 or $299.99 when bundled with an Amazon Cloud Cam. It will begin shipping to U.S. customers on March 5.