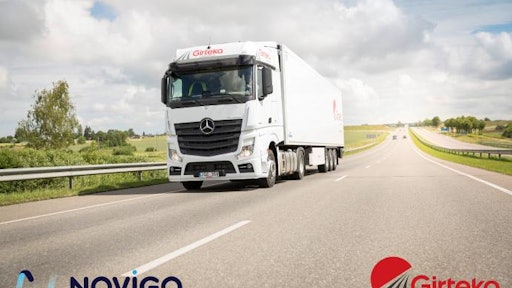 Girteka Logistics
Novigo has signed a contract with Girteka Logistics for the digital transformation of its transportation operations with SAP S/4HANA. Under the agreement, Novigo will help Girteka Logistics to raise its digitalization and innovations with moving their processes to a new level.
The goal of the project is to further support and accelerate Girteka Logistics growth strategy with a new state-of-the art digital transportation management platform.
"Novigo will help improve the company's performance based on Girteka Logistics business principles. We are happy to have a partner with such a successful history in the SAP Supply Chain Execution area. We trust Novigo in this challenging global pandemic situation and start the Blue Printing phase entirely remote," says Martynas Sarapinas CIO of Girteka Logistics.
Novigo was selected for its ability to enable large and complex transformations, its global expertise and its proven track record for delivering digital transformation solutions to the largest brands in the market. Novigo will be the prime implementation partner of SAP Digital Supply Chain. The implementation will include the main features of a TMS: quotation management, order management, transportation planning, transportation execution, freight costing and settlement, analytics and reporting, enterprise asset management and vehicle management.
"We are pleased and proud that Girteka Logistics has selected us to assist them in the next step of enhancing their digital Transport management. We are excited to start a new journey with Girteka Logistics, creating competitive advantages through industry expertise and innovative business practices based on SAP's Digital Supply Chain technology," says Joerg Rohde, CEO of Novigo.