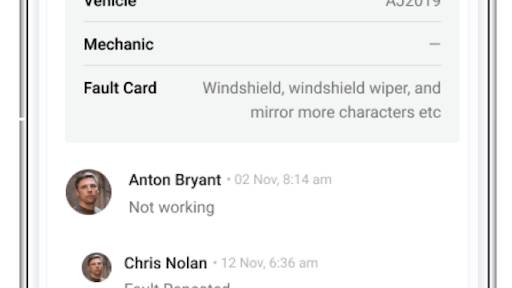 Whip Around
Whip Around has introduced new functionality to its mobile app, allowing fleet managers to manage and track vehicle faults flagged by drivers using the app to conduct daily vehicle inspections.
Those responsible for fleets can now use the Whip Around app from anywhere to view and update the status of all faults in real time and assign repair work to mechanics in seconds. With the ability to view pictures and add comments with ease, mechanics, drivers, and fleet managers can keep each other updated on the status of issues that may impact compliance, safety, or performance.
Tim Boyle, CEO of Whip Around, said: "We're excited to launch great new functionality and features that enable anyone managing a fleet to get immediately notified of any faults, triage them with detailed information, and then take corrective action or arrange repairs with mechanics wherever they are, all from their smartphone."
In a continued push to enable fleet operators to manage compliance and maintenance from anywhere, the company is adding the app features to a stable of new features designed to give fleet managers and business owners more control of asset compliance, maintenance, and driver wellness than legacy paper-based processes.