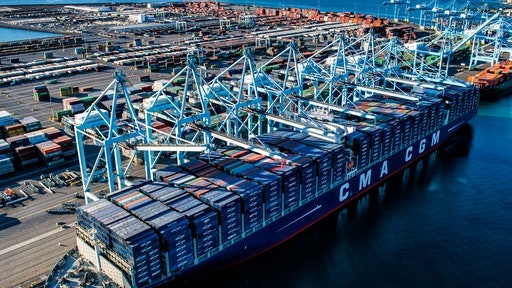 Port of Los Angeles
Most port-proximate industrial real estate markets are registering tempered demand totals due to lower port volumes coupled with softening economic conditions, according to new data from Cushman & Wakefield.
"Developers remain bullish on port-proximate markets as 139.8 million square feet of industrial product is under construction, accounting for 34% of the U.S. total. In fact, Savannah, Los Angeles, central New Jersey and Charleston have recorded an increase in their construction pipelines since the start of 2022, while the majority of industrial markets have yielded declines in product-under-development," says Jason Price, senior research director, U.S. industrial and logistics.
Key takeaways:
Key port markets, such as Los Angeles and New Jersey, posted net losses through the first half of the year amid a slowdown in deal activity coupled with some large occupiers right-sizing their footprints and placing large blocks of logistics space onto the market for sublease. Also, tempering demand has been the notable annual decline in loaded inbound containers, as both key gateways have yielded year-over-year (YOY) decreases more than 20%.
There have been some port markets that have seen healthy absorption totals through the first half of 2023. Savannah's 6.6 million square feet overall net absorption year-to-date (YTD) ranked fifth highest in the nation and represented 5.8% of its current inventory, the highest of any market. Meanwhile, Houston yielded healthy growth, with 10.2 million square feet of YTD absorption, the highest of all U.S. industrial markets.
The key port-proximate Canadian industrial markets (i.e., Montreal, Vancouver/Prince Rupert, and Halifax) account for 33.6% of the total national industrial inventory, with Montreal (339.8 million square feet) and Vancouver (234.4 million square feet) boasting the second and third largest inventories, respectively, behind only Toronto (809.7 million square feet).
"Overall, we're seeing that industrial real estate markets are normalizing but remain tight. Healthy delivery totals for new construction are projected to persist in the second half of 2023, pushing vacancy rates higher amid moderated demand totals. Industrial markets will continue to normalize but vacancy rates will remain well below long-term averages," Price says. "As softer economic conditions persist, absorption totals will remain tempered in comparison to the peak levels registered during the pandemic. Most industrial markets—including port-proximate markets—should register modest rent growth despite growth slowing. Historically speaking, port markets are in a good place and will likely see some of the tighter vacancy rates and strongest industrial rental rate growth."