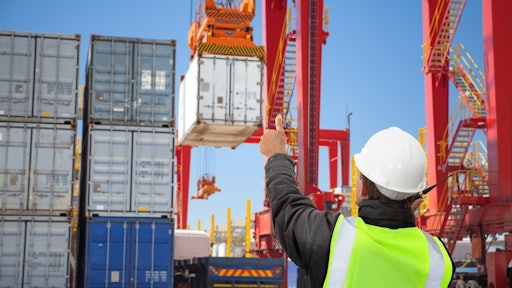 sculpies AdobeStock_244678288
Import cargo volume at the nation's major container ports is expected to begin slowly climbing again this month, after February saw one of the lowest levels since the beginning of the pandemic, according to the Global Port Tracker report released by the National Retail Federation and Hackett Associates.
"There are many uncertainties about the economy, but we expect imports to show modest gains over the next several months," says NRF VP for supply chain and customs policy Jonathan Gold. "Growth is a positive sign, but levels are still far below normal and retailers will remain cautious as they work to keep inventories in line with consumer demand."
"Retailers are maintaining reduced inventories in anticipation of rebuilding with new seasonal stock once they have a clearer take on expected levels of consumer spending," says Hackett Associates founder Ben Hackett. "While import volumes remain low, the tight labor market and strong wages are helping consumers absorb the impact of inflation and continue to spend."
From National Retail Federation:
U.S. ports covered by Global Port Tracker handled 1.81 million Twenty-Foot Equivalent Units – one 20-foot container or its equivalent – in January. That was down 16.5% year over year but up 4.4% from December for the first month-over-month increase since last August.
Global Port Tracker projected that the month dropped to 1.56 million TEU, down 13.6% from January and down an unusually large 26.2% from a year earlier. That would make it the slowest month since 1.53 million TEU in May 2020, when many factories in Asia and most U.S. stores were closed due to the pandemic.
Beginning this month, imports are expected to climb at least through mid-summer but will nonetheless remain below last year's levels. March is forecast at 1.74 million TEU, down 25.9% year over year; April at 1.87 million TEU, down 17.2%, and May at 1.92 million TEU, down 19.7%. June is forecast at 2 million TEU, the first time imports are expected to be that high since October but down 11.5% from last June. July is forecast at 2.13 million TEU, down 2.5% year over year.
The first half of 2023 is forecast at 10.9 million TEU, down 19.5% from the first half of 2022. Imports for 2022 totaled 25.5 million TEU, down 1.2% from the annual record of 25.8 million TEU set in 2021.