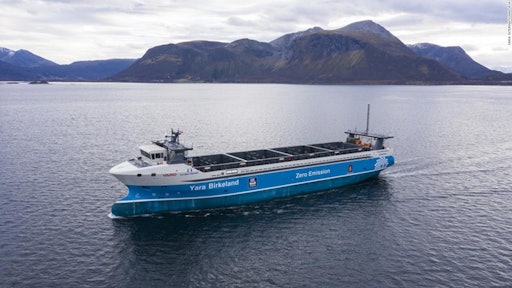 Yara International
After numerous technological advances in the supply chain on the ground and in the warehouses push automation and sustainability, ocean liners now see innovations as well. Yara International plans to have the ship make a trip between two Norwegian towns by the end of the year, with no crew on board whatsoever, monitored from three onshore data control centers.
Per CNN:
It's not the first autonomous ship -- an autonomous ferry launched in Finland in 2018 -- but it is the first fully electric container ship, say its makers. Developed by chemical company Yara International, the Yara Birkeland was designed to reduce emissions of nitrogen oxides, which are toxic pollutants and greenhouse gases, and carbon dioxide, as well as moving freight away from roads to the sea.
The shipping industry currently accounts for between 2.5% and 3% of global greenhouse gases emissions, according to the International Maritime Organization. Nearly all of Norway's electricity is generated by hydroelectric power, which is generally considered to have much lower carbon emissions than burning fossil fuels, although it still produces greenhouse gases.
Click here to hear more about autonomous technology in the supply chain: