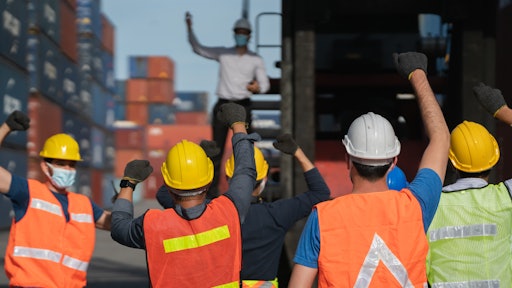 Me studio/stock.adobe.com
A deadlock in the pay dispute between port bosses and union leaders at Felixstowe, the U.K.'s leading container port, led to a strike that has far-reaching implications for the British economy and supply chains, as previous port strikes in the U.S., Germany and South Korea have shown.
Deadlock in pay talks
The widening gap between workers' earnings, corporate profits and soaring inflation rates in the UK have driven unionized workers in various British industries to fight back against falling living standards. The Unite members at the Port of Felixstowe are no exception. With the Port of Felixstowe now likely to be closed by strike action for eight days from Aug. 21, shippers are already diverting cargo to other ports to hedge delay risks.
Felixstowe is the U.K.'s leading container port handling 48% of the country's imported containerized goods. On an 80% turnout, 92% of the Port of Felixstowe's union members voted for strike action. On Aug. 1, pay talks broke down as no agreement was reached at an arbitration meeting. Felixstowe Dock and Railway Company had offered a 5% pay increase. Union officials described this as an effective pay cut as the real rate of inflation (RPI) in the UK is currently over 11%. Following another round of talks on Aug. 8, the local Unite union branch threw out an improved offer by the Port of Felixstowe that foresaw a 500 pound lump sum plus a 7% pay rise. A spokesperson for the Port confirmed that plans were already made for contingency measures to be introduced for when the eight-day strike started.
The lessons we learn from past strikes about delays
project44 has tracked the effects of several port strikes in the past. While the impact of the strikes differ depending on the unique circumstances of the country, port, and duration of the strike, some patterns are consistent. Recent strikes at German seaports such as Hamburg and Bremerhaven, Oakland, California, and Busan, South Korea, demonstrated that import containers are especially susceptible to delays. As vessels arrive and unload, import containers can quickly pile up and drive up dwell times. If a strike is called at Felixstowe, import container dwell times can be expected to quickly exceed two weeks.
The relatively minor protest in Oakland in July caused import containers to dwell for 15 days on average, and some containers were stuck for more than 30 days. According to project44 data, container dwell times began to climb in the days following the onset of the strike in Germany's seaports. Bremerhaven, for example, saw a peak of 9.1 days on July 17, 112% longer than the July 11 dwell time of 4.3 days. The Port of Busan saw dwell times rocket as a result of the port workers' strike in June. Within a week, export container dwell times in Busan rose by 225% from 3.5 to 14.3 days and import container dwell times by 258% from 4 to 14.3 days. The South Korean government estimated that the strike cost key industrial sectors over $1.2 bn.
Blank Sailings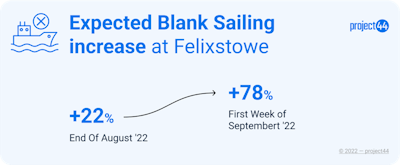 As the above chart shows, blank sailings by carriers at Felixstowe have climbed to almost 80% in early September as carriers anticipate avoiding the port. The knock-on effects of disrupted supply chains on the beleaguered British economy will be an additional challenge facing the new Prime Minister, with Boris Johnson's successor due to be announced on Sept. 5. Business leaders and the British government have called for a negotiated settlement in view of Felixstowe's critical role in keeping goods moving and the major disruption a port workers' strike would cause to the supply chain, businesses and consumers throughout Britain.