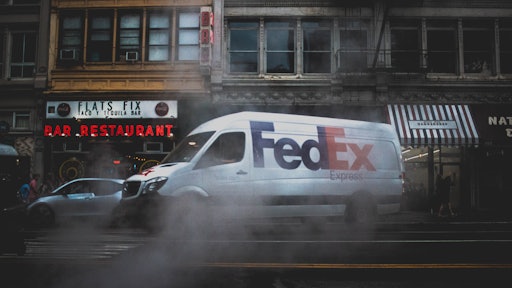 Unsplash
FedEx has lowered its fiscal 2020 profit for the second time since it has launched seven-day delivery.
There are many factors that contribute to the decision, Reuters reports. The company has had to deal with the fallout from Amazon discontinuing its partnership and ongoing global trade tensions between the United States and some of its biggest allies.
Reuters reports that FedEx shares dropped 6.5% in extended trade after the Thanksgiving holiday. The company cited the lateness of the holiday hurt results in the most recent quarter.
FedEx adjusted its net income dropped 38.9% to $660 million for the fiscal second quarter, missing analysts' average estimate for a profit.
Meanwhile, operating margin in the FedEx Ground segment decreased to 6.4% from 11.5% last year because of the cost of adding Sunday deliveries, Reuters reports.
The company's plane-focused delivery service, At Express, dropped 2.6% from 6.6% a year ago after weak industrial production contributed to softness in its higher-profit commercial business.
FedEx previously lowered its earnings forecast for the year ending May 2020 back in September from $13 to $11. Now, it is predicting shares from $10.25 to $11.50, citing missed revenue targets in all transportation segments and higher residential delivery costs.