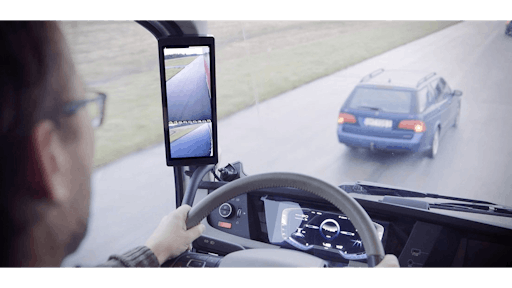 Stoneridge Inc.
The National Highway Traffic Safety Administration (NHTSA) is considering allowing cameras to replace both rearview and sideview mirrors on trucks.
In a proposal rule, NHTSA, an agency within the U.S. Department of Transportation, announced it will be opening a 60-day comment period to gather technical information, data, and analysis on camera monitoring systems (CMS) "so that the agency can determine whether these systems can provide the same level of safety as the rearview mirrors" required under a current vehicle safety standard known as FMVSS No. 111.
In the proposal, NHTSA says part of their responsibility in carrying out their safety mission is not only to develop and set new safety standards for new motor vehicles and motor vehicle equipment, but also to modify existing standards as appropriate to respond to changing circumstances such as the introduction of new technologies.
Examples of previous technological transitions that triggered the need to adapt and/or replace requirements in the FMVSS include the replacing of analog dashboards by digital ones, the replacing of mechanical control systems by electronic ones, and the first production of electric vehicles in appreciable numbers.
"NHTSA is publishing this Advanced Notice of Proposed Rule Making (ANPRM) to gather information and receive feedback to enable the agency to decide whether (and if so, how) to propose amending FMVSS No. 111, 'Rear visibility,' to permit camera-based rear visibility systems (commonly referred to as 'Camera Monitor Systems' or 'CMS' ) as an alternative compliance option in lieu of outside rearview mirrors or in lieu of all rearview mirrors, both inside and outside ones," the report says.
Specifically, NHTSA hopes this ANPRM, through the public comment process, will provide the agency with additional safety-related research and data to support a potential future rulemaking on this subject.
Manufacturers Ready for Mirrorless Vehicles
Currently, FMVSS No. 111 requires that all passenger cars, multipurpose passenger vehicles, trucks, buses, school buses and motorcycles be equipped with one or more rearview mirrors for rear visibility. However, in recent years, there has been a growing interest among industry stakeholders in using CMS to supplement or replace rearview mirrors on both light and heavy vehicles. These systems use rear-facing cameras mounted outside of the vehicle to capture and transmit images to electronic visual displays mounted inside the vehicle, in view of the driver.
Companies like Mekra Lang and Stoneridge have been working for years to develop the digital mirror of the future that they believe can increase both efficiency and safety for the driver and traveling public.
Last year, MEKRA Lang showcased a digital vision system based on several years of mirror system development known as the MEKRA Lang Digital VisionSystem (DVS).
The DVS replaces both large mirrors outside the driver's cab with aerodynamically optimized camera wings. The resulting reduction in air resistance decreases fuel consumption by up to 2% since there is less drag on the vehicle. Cutting-edge optics and image processing software specifically developed for trucks provide optimized imaging, covering the entire spectrum of driving situations and environmental conditions. With its software- and hardware-based self-monitoring functions, this DVS offers the driver a degree of reliability and safety.
The MirrorEye System from Stoneridge also replaces traditional rear and side view mirrors with digital cameras and provides significant improvement over conventional mirrors. Stoneridge Inc. recently announced that its exemption application to federal law was approved by the Federal Motor Carrier Safety Administration (FMCSA), allowing its MirrorEye CMS to be installed as an alternative to conventional rear-vision mirrors currently required on commercial motor vehicles in the United States. The exemption applies solely to Stoneridge's MirrorEye system making it the only CMS that allows for complete removal of traditional mirrors in the United States.
With a CMS, drivers can keep facing forward and focused on the road in front of them as the in-cab displays are placed within their field of view. This eliminates the need to turn their head to look at mirrors.
As the industry continues to focus on technologies that improve vehicle safety and efficiency, these platforms can help drivers operate more safely, reduce vehicle maintenance for mirrors accidentally knocked off, as well as safety related costs for end users all while improving the fuel efficiency of the vehicle.
Deadline for Submitting Information December 9th
NHTSA is asking for information based on 21 questions among the following seven categories:
· Existing Industry Standards
· System Field of View and Related Test Procedures
· Image Quality and Related Test Procedures
· Rearview Image Display Type Related Human Factors
· Side Rearview Image Display Locations, Driver Acclimation, and Related Test Procedures
· Camera Durability, Reliability, and Related Test Procedures
· System Availability when Vehicle Ignition is Off
The agency is also encouraging comments on the potential economic effects of CMS, including the cost difference between a vehicle equipped with CMS compared with rearview mirrors, and the extent to which the improved fuel economy provided by using cameras instead of mirrors would offset that increased cost.
This article originally appeared on our sister website: https://www.oemoffhighway.com/operator-cab/camera-systems/article/21091639/can-cameras-replace-mirrors-on-trucks-the-trump-administration-thinks-so