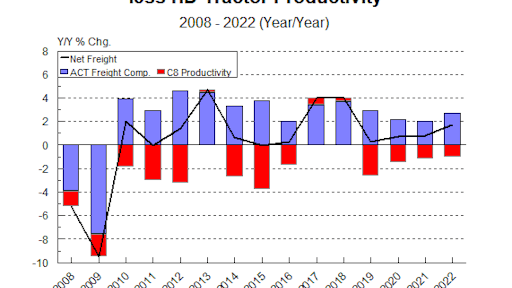 ACT Research's latest North American Commercial Vehicle OUTLOOK indicates the Class 8 truck market is headed toward a pullback in build rates. This is due to deteriorating conditions within the heavy-duty truck market. Orders have been declining in recent months as build rates for 2019 have been filled for most of the year, and not many orders are coming in for 2020 build slots.
Deteriorating freight and rate conditions are also a factor, says Kenny Vieth, ACT's President and Senior Analyst. "New equipment buying truckers have only recently started to come to terms with the disequilibrium in truck supply and freight demand." He adds, "When the change comes, it is likely to come fast, and we reiterate what we've been saying in recent months: Everyone should be well into their preparations for a rapid downward correction in production levels in the next few months."
Vieth continues, "With no substantive changes to the economics underlying the outlook and data supporting our forecasts still mounting, we maintain our position that the industry should be preparing for down weeks starting as early as Q4. However, depending on the exact timing of the rollover, there may be some incremental high-side in our near-term outlook."
Retail sales of medium-duty trucks, on the other hand, have remained consistent. According to the OUTLOOK, production in July exceeded expectations significantly. "At least one OEM has made the decision to align its model year changeover with the broader industry, while production cutbacks are beginning to become public," says Vieth.
The ongoing trade war between the U.S. and China is playing a part in the declining truck market conditions, as well. On September 11, it was announced the tariffs battle cost businesses and consumers $6.8 billion in July which is the highest in U.S. history. However, consumers are continuing to spend as normal and for the moment keeping the U.S. economy afloat.
"Aside from trade, the economic picture remains largely unchanged, with growth moderating in 2019 from last year's vigorous pace," says Vieth. "The key risk to all vehicle market forecasts remains the on-again, on-again trade war with China. If the President doubles-down from here, a greater global downturn could ensue, with the worst outcomes spreading beyond the impact of tariffs and into a global race to the bottom in terms of currency manipulation."
He adds, "Another move from this point would substantively increase the likelihood of a recession sometime in 2020. ACT's recession probability in the next 4-6 quarters has risen to 40%, up from 25% earlier this year." He concludes, "With U.S. manufacturers and farmers struggling to compete on the tilted global playing field, the key driver of the near to mid-term outlook is the U.S. consumer, who remains well positioned to keep the economy out of the ditch, even as key freight generating sectors of the economy take a pause. Jobs and wage growth and savings are all at healthy levels, supporting consumer confidence."
This article first appeared on our sister publication, OEM Off-Highway.