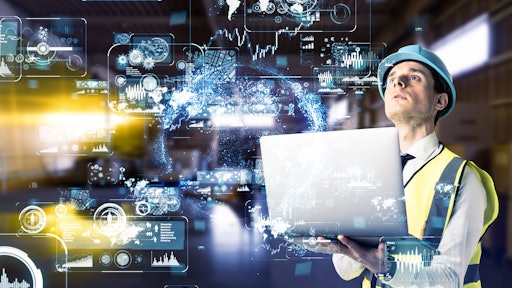 Getty Images
In a perfect world, companies would start working with a 3PL and stay with them forever. Reality and experience show that while many companies hire 3PLs to manage their facilities, the typical contract length is three to five years. Not perfect. Not forever. When those contracts are up, there are three ways it can go—bring the operations in house and do it yourself, renew the existing contract, or hire a new 3PL.
We sat down with a leading 3PL provider to talk about how they approach the situation when they are the new 3PL. Here are the tips with perspectives on people, process and technology to ensure the transition to your new 3PL has the least disruption to your operations.
First, the Contract— Read All of the Fine Print
It probably goes without saying that many struggle to understand contractual language and may not spend the time needed to truly read for understanding. It's especially important to ensure the financial portion of the contract is very clear. Both the customer (you) and the new 3PL need to know what each brings to the relationship, what each is responsible for and exactly what the 3PL is being paid to do. Some important elements to understand are:
Does the pay structure align with the customer's KPIs (your KPIs)? If the main goal of the customer is to manufacture more products, then it is important to ensure the 3PL's fixed and variable rates align with this goal.
How will overtime be handled?
Is there a clearly defined scope and definition of work to be performed? How will the scope change process work over the course of the contract life?
What services does the 3PL offer that don't currently exist? Will I want those services later and how do those get added? What will the costs be at that point?
People
People are key to the transition. And as the customer, it's a good idea to be involved in how the people aspect is managed by your former 3PL and your new 3PL. Ask to see and be involved in the transition plan so that you understand and can weigh in on these areas:
Attrition: Does your new 3PL have a plan for retaining current employees, at least through the transition period? Ideally you will want to keep as many as possible, for as long as you can. Thus, consider what types of incentives or other benefits you are prepared/able to offer.
Training: Do you want to be responsible for this or will the new 3PL?
Hiring: You will likely lose some employees through this transition period. Is there a low unemployment rate in your area and has your new 3PL considered overstaffing to ensure there are enough employees?
Transparency: Be transparent on the issues and problems you were having with your former 3PL. How does this affect the relationship with the new 3PL? Are there major issues that you want the new 3PL to address?
Language: Change often brings new lingo and job titles, even if the responsibilities remain the same. Certain processes may be called something new. Taking the time to ensure new concepts and wording are explained and communicated clearly through training and documentation saves significant time and confusion and helps in trust building.
Process
Communication, communication, communication. It is so vital to success that it can't be overstated. It's important on a regular basis—and even more critical during a transition to a new 3PL. Think about and carefully plan your communications regarding plans and processes:
Be transparent on what a current process is and what it requires. What are some common issues that get exposed in that process? How do you want the new 3PL to handle those issues?
Clearly define processes and have both parties review/agree on documentation that outlines those processes. This will go a long way to ensuring a smooth transition. There are three key areas to review and analyze during a transition plan:
Customer service levels
Detailed timeline for implementation
KPIs and metrics for operational performance
Regardless of your choice in technology, it's important to remember to avoid process changes during transition. It might seem like the right time to add more change. What's one more thing, right? This can create confusion particularly if you have a mix of new and seasoned employees during the transition. It requires training on both the current and new processes. Wait to introduce any new processes until after the transition is complete. You'll be more successful, have less confusion and likely retain more of your workforce.
Technology
Decisions about technology are based on a company's needs. Do you want to use what the new 3PL is offering or will you want them to use a particular technology? Some companies that utilize 3PLs for their distribution are beginning to purchase their own software. Thus, the 3PL is responsible for using what is already owned. There are a lot of benefits to this as it can streamline multiple facilities, aid in employee retention and give a greater amount of control to your business.
When implementing a new technology solution, remain transparent and communicate the expectations and requirements up front before the transition even begins. Some of the key aspects to consider and discuss with clients are:
Security: Verify that IT security requirements meet the needs and requirements of you, the customer—and your customers.
Data transfer: Ensure that everyone understands how data will be shared or transferred between your software and the customer's internal system(s).
Integration: Provide a clear plan outlining what integrations will be included and when.
Final Thoughts
Communication and planning are not exciting or new but they are vital to project success. Make sure that your new 3PL provides a very clear and detailed plan that outlines the transition from start to finish and covers in detail the areas of hiring, onboarding, training and communication to keep all key stakeholders updated on the status of the project.
Always sit down with the customer to ensure that both parties are on the same page and transparent about expectations from the start. This kind of frank discussion will go a long way to a smooth transition to a new 3PL and help reduce bottlenecks that may occur later down the road.