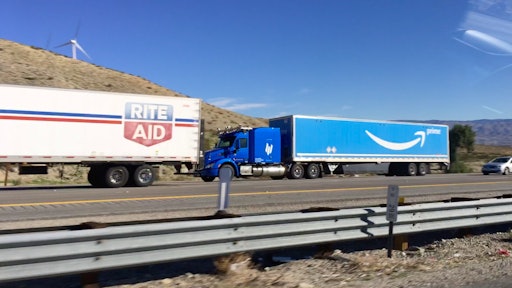 Reddit
Self-driving trucks that were developed by Embark are being tested by Amazon to haul some cargo, CNBC reports.
Previously, the trucks were noticed showing tractors with the Embark logo and trailers painted with the Amazon Prime logo.
Saw this on the I-10 today. Is amazon making driverless trucks? from r/SelfDrivingCars
There is a current race toward autonomous systems, with companies like Waymo, Tesla and Uber becoming major players in the market. With the current driver shortage only expecting to get worse as the years go by, the technology aims to alleviate industry pains by making existing truck drivers safer and more efficient. It is guaranteed that more autonomous trucks will be in circulation soon.
"We are always innovating and working with innovative companies to improve the customer experience and safety of our team. We think successful over-the-road autonomy will create safer roadways and a better work environment for drivers on long-haul runs," an Amazon spokesperson tells CNBC.