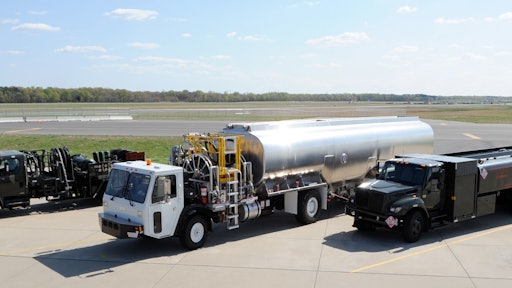 Big rig trucks are sitting empty in the oil fields of San Antonio. Drivers are needed to haul loads of sand to frac a well, but there aren't any people to do it.
Wells will take longer to complete, and once it's out it'll have to go to the Gulf Coast. With trucking companies hiking up prices, there will only be more delays amid the driver shortage, Transportation Topics reports.
As the driver shortage continues, everyone will have to pay more for goods. Currently, longhaul truck shipping rates are 10 percent higher, Trucking Transportation reports. The freight industry is scrambling to address a workforce crisis.
The American Trucking Associations reports that there are currently over 50,000 unfilled driver positions, and that number is only expected to increase in the coming years. There are multiple reasons why the shortage has been worsening: people want to stay at home with their families, the controversial electronic logging device mandate, the pay and benefits aren't good enough and the younger generation just isn't interested in it. Nevermind the fact that the rise in e-commerce is only increasing the demand as well.
According to Transportation Topics, Texas alone needs 50,000 Class 8 Drivers. Drillers in the Southern part of the state use thousands of truckloads of sand to open rock formations in a single well. By drilling longer wells, they are using 75 percent more sand than just a year ago.
It currently takes hundreds of trucks per well just to get the sand, Transportation Topics reports. An additional 60 trucks are used to dispose of water. The driver shortage will have production growth of 600,000 to 900,000 barrels a day compared to the 1 to 1.5 million that is expected.
Simply put, the driver shortage is disrupting oil production.
Transportation Topics reports that some exploration and production companies are holding onto trucks are jobs are done because they worry they won't have enough for the next job, which reduces its overall activity.
Companies are feeling as though there's no point in spending extra cash to complete the wells so that they can put the product online because there's not enough drivers to haul the goods.
To read the full original article, please click here.