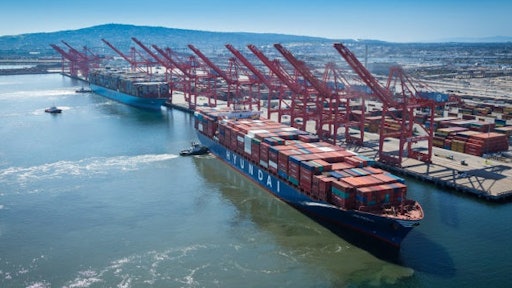 Imports declined last month at some of the U.S.' largest ports.
The Wall Street Journal reports that the port of Los Angeles and Long Beach handled a combined 763,602 TEUs of loaded inbound containers, down 3.1 percent from the previous year.
The decline in imports appears to come from companies pulling forward shipments as trade tensions between the U.S. and China continue. The countries are continuing to threaten tariffs on billions of dollars' worth of goods, hurting the industry as the summer months are usually a peak for imports are retailers prepare for the holiday season, the Journal reports.
Goods appear to be flowing into other ports, though. According to the monthly Global Port Tracker, imports into the nation's major seaports reached 1.92 million in TEUs in August, upping 4.8 percent from last year.
Companies may also be holding inventory. While it may be a higher cost now, it is only a small amount compared to what they would have to pay with the additional tariffs.
The Wall Street Journal reports that the Los Angeles and Long Beach ports are more exposed to the trade tensions as more than half of their cargo volume comes from China. Ports like Savannah and Jacksonville aren't experiencing the same strain.