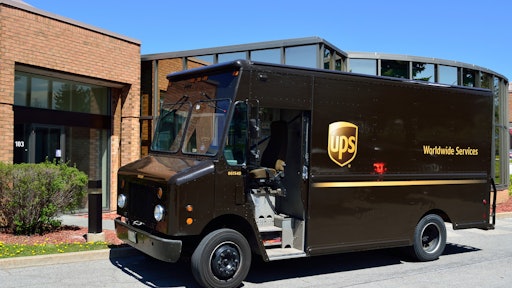 UPS is adding 730 alternative-fuel trucks to its fleet as an attempt to reduce fuel costs and vehicle emissions.
The company is spending $130 million to buy the new trucks, boosting its current CNG fleet by 19 percent, the Wall Street Journal reports.
According to the Wall Street Journal, the investment is an effort to cut the company's greenhouse-gas emissions from its ground operations by 12 percent by 2025. Currently, the company is investing $20 billion to automate its facilities and upgrade technology in order to adjust to the e-commerce boom.
Fuel has been on the rise lately, creating a stressor for freight companies. Over the last month, the average on-highway price cost between $3.239 and $3.288 a gallon, the Wall Street Journal reports. UPS reported that fuel expenses were 27 percent higher for prices for jet, diesel and gasoline fuel. In order to make up for the hefty costs, some customers got charged a fuel surcharge.
In recent months, companies have been exploring trucking alternatives. Anheuser-Busch reserved hundreds of hydrogen-electric trucks from Nikola Motor, while many have put reservations on Tesla's all-electric Semi big rig.
Yet, alternative-fuel vehicles still account for only a slim amount of the overall truck market. Even though new models have improved on fuel economy, initial buyers still had trouble selling the vehicles. According to a survey by the American Transportation Research Institute, 11 percent of carriers have said that they have vehicles that use a fuel other than diesel or biodiesel blends.
By 2020, UPS aims to have one in four new vehicles be an alternative fuel or advance technology vehicle, the Wall Street Journal reports. The company also wants to swap out 40 percent of all fuel for its ground operations with sources other than conventional gasoline and diesel.