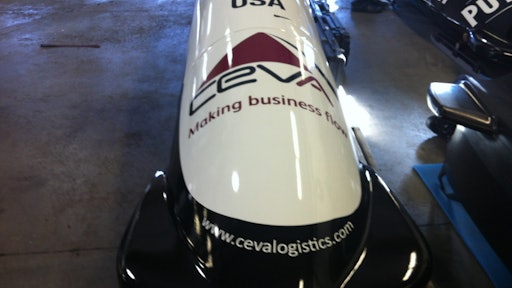 Lake Placid, N.Y.—Dec. 11, 2013—CEVA Logistics, a global supply chain management company, announced it was named the official logistics provider and sponsor for the U.S. Bobsled and Skeleton Federation (USBSF), which is in the process of selecting the team to defend its 2010 Olympic Gold Medal.
The sponsorship expands CEVA's reach into the multi-billion-dollar area of sports logistics, which requires knowledge and global reach to handle the critical, high-tech equipment used by athletes, sporting organizations and teams around the world.
In addition to being an official sponsor, CEVA is also the official logistics provider for the USBSF, responsible for transporting 19 two- and four-man bobsleds to all World Cup event locations in North America, as well as coordinating transport and storage internationally. On completion of the World Cup events, CEVA may arrange for transfer of the sleds to Sochi, Russia, site of the 2014 Winter Olympics, as Team USA looks to defend its gold medal.
According to CEVA's Chief Commercial Officer Inna Kuznetsova, "Sports competition today requires complex equipment that needs sophisticated care, transport and delivery. This partnership allows us to bring together our passion for sports and logistics, so we can leverage our operations excellence to help the USBSF deliver their sleds where they need them and when they need them."
CEVA's sponsorship includes a dedicated sled wrapped in the company's burgundy and black logo, which can be seen throughout the entire 2013 to 2014 World Cup season, including races in Calgary, Canada; Park City, Utah; Lake Placid, N.Y.; Winterberg, Germany; St. Moritz, Switzerland; Igls, Austria; and Koenigssee, Germany.
In addition to the dedicated bobsled, CEVA's logo receives placement on all national team sleds and uniforms, as well as being recognized as an official sponsor on the USBSF's official website, and in all team press releases and newsletters.
Companies in this article