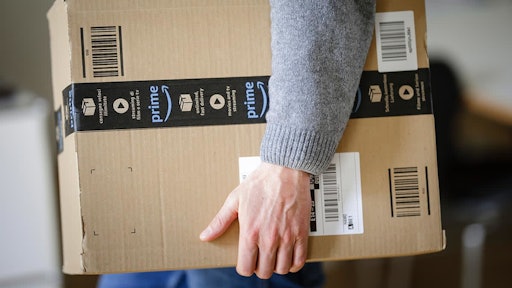 Amazon
Delivery drivers are expected to deliver more packages and encounter more delivery complexity than ever before. In fact, the majority (71%) of drivers globally reported that the volume of deliveries has increased in the last five years, and on average, a package arrives on a doorstep every 6.5 minutes, with U.S. drivers delivering an average of nine packages an hour, according to a Scandit survey.
"Our research has uncovered a workforce stretched to its limits," says Samuel Mueller, CEO and co-founder of Scandit. "As delivery companies have innovated and diversified their offerings to meet consumer demand, drivers on the frontline are feeling the pressure of changing roles, increased parcel volumes, and high expectations of speedy delivery. The onus is now on delivery companies to deploy the right technology to attract, support and retain this critical workforce."
From Scandit:
67% of respondents state they now have to complete deliveries to different types of drop-off points, 66% are now expected to work faster, and the same amount (66%) reported an increase in new tasks like identity verification at the door.

82% of global drivers use a smartphone to complete their delivery tasks, including providing proof-of-delivery at the door, age or ID verification, finding packages at the curbside and connecting with customers and their head office during a shift.

Nearly half (48%) of U.S. delivery drivers use their own smartphone for scanning at work – compared to the global average of 36%.

50% of global respondents state staff shortages have increased during the last five years, compared to the U.S. average of 55%. The majority of drivers (67%) stated they had changed jobs within the last two years, with 42% of these occurring within the last year. Many of these job changes are within the industry itself, as 68% previously had a job in delivery. The research also revealed that 37% juggle delivery with another job – with 7% holding down two or more jobs – and some respondents having seven different roles.

For U.S. workers, work-life balance is a top priority (44%), followed by salary and pay (41%). 29% of U.S. delivery drivers will choose a new employer over another based on brand reputation and perception, while 26% of workers switched employers because of better environmental and sustainability policies. Even more, 25% of delivery drivers in the United States select an employer based on the technology they provide for scanning and tracking deliveries.
"The delivery industry needs a flexible workforce, significant parts of which are often employed on a gig economy or part-time basis in order to manage unscheduled or unexpected peaks in demand," adds Mueller. "But this workforce is well-versed in the industry and will actively seek out not only a strong package of salary and benefits, but also flexible working patterns, a company with a strong brand reputation, and crucially, the provision of high-performance technology in order to complete their demanding roles."