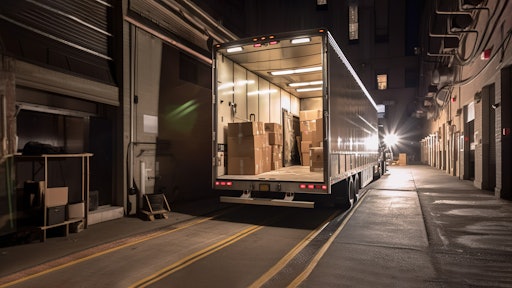 BPawesome/stock.adobe.com
Evolving customer behaviors and expectations mean that organizations are facing increasing pressure to change. In customer service research, APQC found that the COVID-19 pandemic and other disruptions are leading many business-to-business (B2B) customers to develop the same expectations as consumers in a business-to-consumer (B2C) environment. Along with an increase in online and digital orders, respondents from many B2B organizations report that customers now expect greater consistency between channels and have less patience for any delays or poor visibility related to their orders.
B2B organizations that can learn effective ways to meet these expectations will enjoy a competitive advantage over those that cannot. Fortunately, B2B organizations do not need to reinvent the wheel in this regard—B2C organizations offer important lessons that can help their B2B peers take their customer service to the next level. Last mile delivery, which we explore below, is a case in point.
Greater Visibility Is Key to Competitive Last Mile Delivery
For a B2B organization to meet and exceed customer expectations, it is helpful to begin by thinking about the organization's current last mile delivery practices and how they shape the customer experience. For example, can customers get real-time status updates on their order? If so, how far does that visibility extend?
APQC finds that only 41% of surveyed B2B organizations provide real-time visibility into order status and extend that visibility into the last mile of delivery to a very great or significant extent. More than half of B2C organizations (55 percent), by contrast, follow this practice.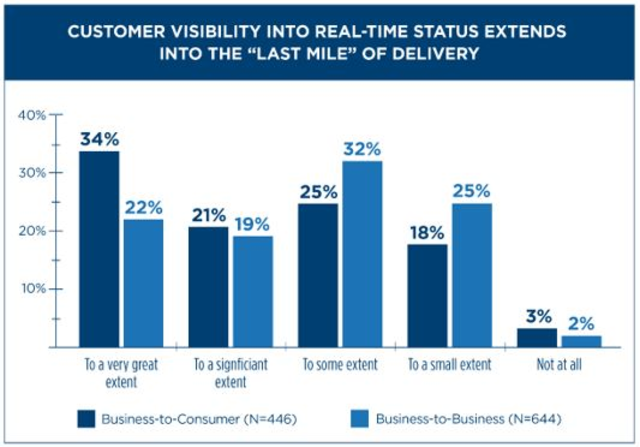 APQC
It makes sense that more B2C organizations extend customer visibility into the last mile of delivery, especially as the "Amazon effect" increasingly leads consumers to expect this type of visibility for every order. It may be less clear at first glance why this degree of visibility is important in a B2B context, since B2B organizations do not generally contend with neighborhood package thieves or risk delivering packages to the wrong address.
There are still plenty of reasons why it makes good business sense for B2B organizations to provide real time visibility and extend it to last mile delivery. For example, even though the delivery context is different, misplaced products or mistakes in receiving can still happen in a B2B environment. Traceability is especially important for high-value products and those that require proof of delivery for legal or regulatory reasons, as in the case of pharmaceuticals or other controlled substances. B2B orders tend to be larger, have a higher valu, and involve more risk than many B2C orders. A missing fifty-dollar hairdryer is bad, but a dispute about whether a company did or did not receive hundreds of thousands of dollars' worth of toxic materials is orders of magnitude more disruptive or dangerous.
Building Capabilities for Last Mile Visibility
An organization's last mile delivery practices—especially when it comes to customer visibility—reflect the ways in which order information is handled internally before it is shared externally. Before B2B organizations can provide real-time status updates for customers all the way to the last mile, these organizations will need to ensure that the relevant data is accessible internally first—and this is one area where B2B organizations can learn from their B2C peers.
Only 47% of B2B organizations in APQC's research report that real-time data regarding customer orders, inventory, warehousing, and transportation is accessible across the enterprise to a very great or significant extent. By contrast, 60% of B2C organizations report this level of internal visibility for customer order data.
Greater internal visibility into customer orders will, in turn, help B2B organizations provide customers with a higher degree of visibility into their real-time order status. For example, B2C organizations are also more likely than their B2B peers to report that they provide customer visibility into real-time order status to a very great or significant extent (52% versus 46%, respectively.)
Providing electronic proof of delivery is another key practice that helps extend customer visibility to the last mile of delivery. It also helps organizations to avoid risk in the event of an order dispute. APQC finds that B2B organizations also have an opportunity to improve in this regard—At the median, only 75% of B2B organizations provide electronic proof of delivery, compared to 85% of B2C organizations.
Key Takeaways
In light of increasing customer expectations, every organization should strive to provide as much customer visibility into orders as possible—not only because customers increasingly expect it, but also because it helps reduce risk in the event that something goes wrong with a delivery. B2B organizations have plenty of opportunities to improve in this regard. The good news is that B2C organizations provide a roadmap for how B2B organizations can take their delivery practices to the next level. Greater internal visibility into customer data allows B2C organizations to extend visibility to customers—and extend it to the last mile through practices like electronic proof of delivery. B2B organizations that are able to follow these same practices will be more likely to meet rising customer expectations and enjoy greater competitive advantage as a result.