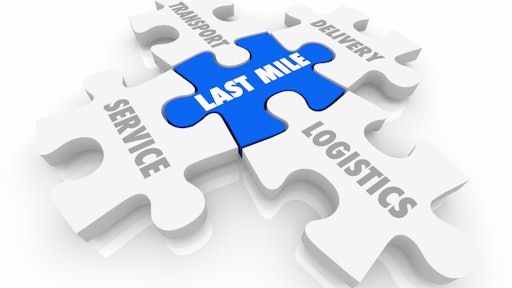 iQoncept - stock.adobe.com
Holiday shopping started earlier than ever this year, which means that retailers have already entered the peak delivery season — a time when consumer expectations are at their highest. Those expectations apply to all aspects of a shopping experience, including delivery. In fact, 68% of consumers said faster delivery times are a key factor when placing an online order.
Good or bad, the last-mile delivery experience will make a lasting impression on consumers this holiday season and into 2023. For retail brands, making a positive impression is harder than ever due to ongoing supply chain challenges, shipping delays and the nature of holiday shopping itself, where late arrivals can ruin someone's celebration. This creates a dilemma for retailers. How can they ensure a quality experience when they don't have the bandwidth, personnel and processes to ensure that every delivery meets customer expectations, every time?
To effectively solve this problem, retailers have increasingly turned to last mile delivery partners. A good partnership is important year-round, but it's especially critical during peak times like holiday shopping season, when delivery volumes soar and many items require careful handling.
With this in mind, how can you ensure you're making the right choice when selecting a third-party partner? Consider these three key qualities: communication, control and consistency.
Communication excellence keeps customers informed
Clear communication is essential for any relationship, and that's certainly true for retailers and their customers. With an outsourced delivery provider, however, it becomes more complex. A third-party partner serves as an intermediary and must communicate with the customer as a seamless extension of the retailer. After all, you are trusting one of the most important aspects of your business to someone outside of your company.
The right outsourced delivery provider will have a readily available, well-trained team to provide the necessary support to communicate with customers about their deliveries. During the peak holiday season, customer support requirements scale incrementally as the volume of deliveries increases. An experienced partner already has all the tools, technology and people to provide regular updates at every stage of the delivery process, from the customer support teams to the delivery professionals.
Effective communication processes also include automated updates like proactive customer text messages or emails. Additionally, support teams should have the ability to respond to simple customer requests, like delivery status updates, or complex requests, like changing a delivery date or the destination's address.
Retailers must be able to trust their partners to represent them through timely communication and friendly, responsive customer service. The holidays can be a stressful time, and clear, effective communication helps put customers at ease and build confidence in the store.
Control puts your customers in the driver's seat
Customers today are used to having things their way. Simply put, they want to be in charge — and that extends to the details of the delivery experience.
For example, let's say a customer purchases a high-end television in time for the big game. Or, consider the customer who needs new living room furniture to arrive in time for a festive holiday party. A last-mile delivery partner should be able to allow the customer to select the delivery window, update them on delivery timing and expedite deliveries when required. This includes the ability to reliably provide same day and next day delivery without missing deadlines.
With the proper delivery technology, trained delivery personnel and the ability to offer last mile delivery wherever it is needed you can meet each customer's individual preferences and put them in control, even down to the details of a delivery.
Consistency helps your brand make the right impression, every time
Your delivery partner is a critical extension of your brand. Every time a delivery professional rings the doorbell, they represent your brand to the person who opens the door. Delivery personnel should know and care about your brand attributes and pay attention to the details, which could include proper identification. It also means they work hard to ensure that items arrive in good condition, regardless of the size or shape.
To meet the expectations of customers, your partner must fulfill every part of the delivery promise. If a customer orders a new mattress, does that include set-up as well as disposal of the old mattress? By trusting a delivery professional to enter their home, a customer is essentially inviting your brand inside. A delivery partner can help you consistently make the right impression and offer a white-glove, professional experience that builds customer loyalty.
Consistency also means you can offer the same services in every location if your partner offers nationwide capabilities. You can roll out new services with confidence knowing they'll meet your expectations.
Provide the "Three C's" and expect success
Communication, consistency and control are the foundations of a successful delivery partnership that will improve customer satisfaction and create repeat customers. Remove one of these three "C's," and you'll risk disappointing your customers. Together, they can help your business thrive during the holiday season and beyond.