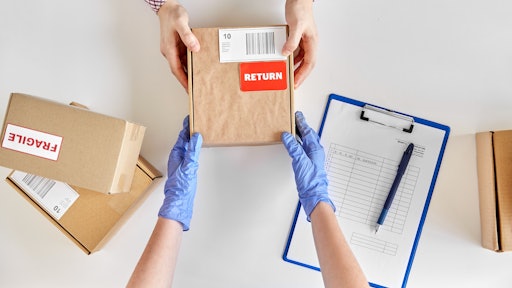 SydaProductions/stock.adobe.com
With the rise of e-commerce shopping comes a spike in returns, a common pain point for consumers and brands alike, but solving the big problems around returns is one of the biggest growth spaces for logistics.
Easy-to-use, efficient returns are a catalyst for excellent customer experiences, creating more brand loyalty and leading to customers coming back to buy—again and again. Last-mile operators, pay attention: if you can facilitate seamless returns for your retailer clients, those brands will reap the benefits, deepening your relationship and letting you earn your place as a true partner.
Years ago, customers might have scoffed at the idea of returning an online order. It was uncommon, socially and in practice. Those days are long gone.
In the U.S., 21% of online orders were returned last year, totaling about $218 billion. With e-commerce projected to surpass $1 trillion this year, we can expect return rates to rise at a commensurate rate to 1 in 5. That's not something the industry can ignore.
Customers Are Considering Returns When Making A Purchase
The easier a return is for customers, the more likely they are to buy from you again, resulting in measurable improvements to lifetime value.
According to research compiled by Invesp, more than 9 in 10 customers will return to buy if the returns process is easy. Simple returns are now table stakes. Two-thirds of consumers check the returns page before considering whether to buy, and 79% of all consumers expect returns to be free.
Furthermore, online purchases have a higher return rate than in-store purchases. Consumers are more than three times more likely to return e-commerce purchases than brick-and-mortar purchases. Nearly half want an easy-to-print label and 58% want a hassle-free "no questions asked" returns policy. If last-mile operators can improve on these customer pain points by offering easier (or no) labeling and a hassle-free process, their clients will reap the benefits.
How Returns Can Differentiate A Brand
There are some powerful examples of retailers using the policy, ease, and pricing of returns as a key marketing tactic to create a long lasting, even iconic brand, like the e-commerce pioneer Zappos and the durable retailer from Maine, L.L. Bean.
Zappos, led by the late entrepreneur Tony Hsieh, positioned the entire company around customer service, and the results were so wildly successful that it was bought by Amazon for $1.2 billion in 2009. One key tactic of this customer service marketing was introducing a very bold, costly policy of free shipping and returns way back in 1999. It worked, and Hsieh shared what he learned saying "customers will buy more and be happier in the long run if we can remove most of the risk from shopping at Zappos."
Meanwhile, L.L. Bean, known for its reliable clothing and outdoor gear, had long established a policy of no-questions-asked, free lifetime returns as an expression to its customers of just how durable their products should be, a policy that helped make its branding so pristine. They've since had to curtail the policy because of abuse, but they still offer returns up to one year, with some restrictions.
The Role Of Last-Mile Operators: Show Customers You Are Efficient
For brands, last-mile platforms with returns built into their offering can bring down the historically high costs of picking up and processing a return. On the customer side, the frequent burden of returning an item is, ironically, not good for a retailer's business. Some customers dread this multi-step process, including requesting a return on a company's website, getting an email with a label to print, buying a box, trying to find a printer to print the label and finally sticking the label on the box just to wait for a delivery person to, hopefully, give them a call and schedule a pickup. This is where last-mile operators have an opportunity to differentiate.
We can start to build a returns process that is the complete opposite of the multi-step process. Think about every step of the returns process that causes blocks and delays for the customer, and eliminate those barriers. Zappos learned that the more you remove the risk of shopping, the more consumers will buy. We can expand on that– the more you remove the burden of a return, the more consumers will buy.
So, as a last-mile operator, think of ways to get creative. How about freeing the customer of physical labels all together? Maybe the box isn't really necessary for a driver to pick up the item. Creative, flexible solutions like this, alongside a strategic last-mile technology company or logistics provider, will decrease the friction of your returns process for customers.
What's more, strong communication between the logistics company and the customer before, during and after a delivery or returns route, along with live tracking, does more good for your operating costs than you may realize. By setting up a platform that texts the customer before the pickup to gather any special delivery instructions, and provides a specific arrival window, you are making a successful pick up far more likely, saving a driver from having to return again, cutting your costs and making your logistics more efficient.
Another opportunity for last-mile operators and brands to create customer loyalty is to speed up returns. Specifically, since customers want delivery by the same or next day, it's a fair bet they would also love same or next-day returns.
In fact, A survey by KPMG in the U.K. showed that 1in 4 customers said "convenience is king" when they're looking to return items and – in a key insight for retailers –12% said the length of time it took to get refunded was super important.
How about building solutions that, once again, do the complete opposite? As a brand, you could work to promise a refund within three days. As a last-mile operator, set a very firm goal of offering next-day pickups and then start marketing that to both retailers and customers.
Building Your Brand for the Future
Returns are such a thorny problem for e-commerce retailers and, although they've been around for more than two decades, many retailers are still scared to make them too easy, fearing that it will hurt their bottom line. However, when a customer knows that a brand offers a clear, fair and generous returns policy, the fear of buying the wrong item diminishes and they feel more comfortable pressing that purchase button.
Like all points of contact with the customer, returns represent an opportunity to impress, but the opportunity is even bigger precisely because, in the consumer's mind, returns are traditionally a negative experience. If brands and their logistics partners can turn a customer's dreaded experience into an incredible one, these companies will earn a lot of respect and a great chance at repeat business.
Last-mile operators should proactively create opportunities to create outstanding experiences for customers, establishing brand trust and loyalty for brand partners decades to come, in ways their competitors can only dream of.