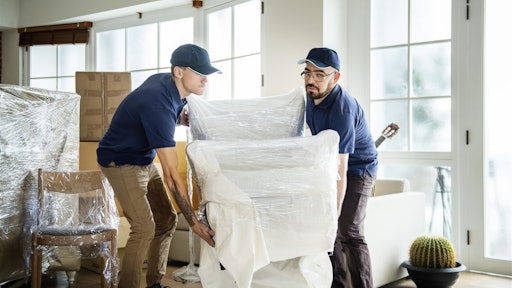 imgpsh_mobile_save/Adobe Stock
It goes without saying that logistics companies hope to provide top quality service for every service it provides. But some last-mile delivery services require enhanced offerings during the transportation of goods.
This is called white glove delivery service, offering customers a range of additional options which could be required for certain goods or price points, often requiring employees to enter the homes of the customer to delivery products. With consumer expectations growing as more services become available, demand for white glove delivery also grows.
"White glove delivery traditionally provides a full suite of services, including some or all of the following: inside delivery, over the threshold, room of choice, stair carry(s), assembly or installation and removal of packaging," says Darren Waxman, chief revenue officer, PICKUP. "Customer expectations are continuing to rise thanks to brands like Amazon and Instacart setting the expectation early on for convenient delivery models. In response to this consumer expectation, as well as the increased demand for advanced delivery options that were brought to the forefront by the pandemic, brands are seeking to further extend the white glove delivery experience into the customers' home, delivering orders with first-rate customer service and the utmost of care. At PICKUP, we call this customer experience touchpoint 'Curated Delivery.'
"The larger and more expensive the item, the higher the customer expectation," he adds. "These goods call for a curated white glove delivery experience. Popular categories include furniture, appliances, mattresses, sporting goods and commercial products, such as HVAC, paint and coatings."
This type of last-mile delivery can even include assembly, says Josh Havens, communications VP at ArcBest.
"The term 'white glove' represents a variety of different enhanced in-home delivery combinations that can be as simple as a threshold delivery or as complicated as a room of choice service with a full assembly for items like furniture, playing tables, exercise equipment, etc.," he says. "Some companies even offer installation of appliances as part of their white glove/enhanced delivery services."
The backend of white glove
But how does the implementation of white glove delivery work in negotiations between the shipper and logistics provider? Per Havens, a rate schedule that uses the number of handling pieces and delivery miles to calculate the white glove and final mile rates typically controls the last-mile industry. White glove delivery is a separate line-item charge added to the published linehaul rates for any form of transportation mode.
PICKUP's Waxman explains that the service provided is based on the partner's requirements and includes a customer experience metric.
"Curated white glove delivery is often customized to the partner's requirements, which usually includes a customer experience metric such as the Net Promoter Score (NPS)," he says. "We incorporate a methodology we call 'Perfect Delivery' in our service level agreements. This includes KPIs for NPS, on-time performance metrics and promise and damage claims to ensure 'best in class' ranking according to the negotiated standards."
Because this service is defined by its higher quality offerings, there are many more aspects the logistics provider and its employees need to pay attention to. This means hiring the right employees is top of mind, while also cultivating a professional but fulfilling culture.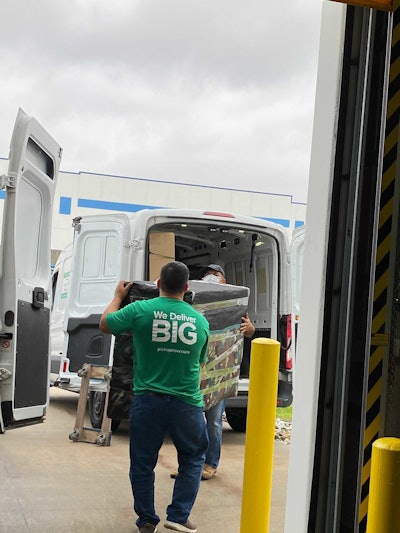 "Vetting delivery professionals is critical to the success of white glove delivery. After all, they are going into a customer's sacred space; their home," Waxman says. "It's important that the delivery professionals build a platform of trust and respect the privacy of each customer. Second, delivery professionals must know the product they are working with, from best practices in handling to assembly and placement where applicable. That way, they can carefully install and assemble everything correctly and efficiently and serve as an extension of the brand's customer experience."
But white glove delivery does not only pressure individuals making the actual deliver, it also adds greater pressure to the last-mile sector as a whole.
The limited number of last-mile providers and their limited and unreliable capacity due to demand combined with the jump in e-commerce home deliveries complicates white glove delivery even more.
"The final mile community is very fragmented and there are a limited number of providers," Havens says. "Reliable capacity can be hard to come by. With the increase in home deliveries, Final Mile companies and brokers are racing to build out their provider network. There is a significant amount of pressure on the Final Mile space with respect to transit time, experience and visibility.
"With consumers ordering more heavy packages online, they expect the same delivery experience they get from small package," he says. "They want it fast, they want the delivery convenient, and they want to be able to track their shipment through its entire journey. Providing this level of visibility is the hardest. The technical capabilities of most final mile providers are usually very limited – making the creation of a real-time tracking difficult.
"Even when there is a connection, companies must have the ability to seamlessly integrate their linehaul status updates with their final mile status updates – providing a unified delivery experience. This is much easier said than done."
White glove delivery will likely continue to grow along with e-commerce. Consumers are making big purchases online now more than ever, which pushes white glove further. This will prompt many logistics providers to invest in white glove services as well.