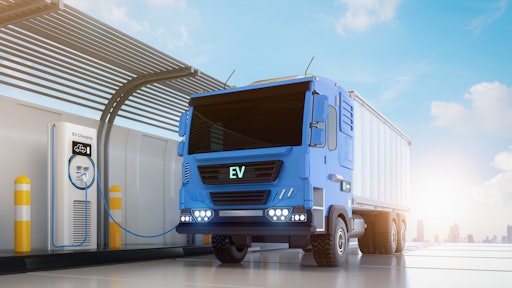 phonlamaiphoto AdobeStock_533284785
Merchants Fleet launched ClearCharge, a remote electric vehicle (EV) charging and infrastructure solution for fleets of any size nationwide.
ClearCharge Home, ClearCharge Work, ClearCharge Public and ClearCharge DropStation enable commercial fleets to plan, develop, and implement Level 2 and 3 charging to meet the evolving needs of their business.
"The increased popularity and rapid technology advancements in EVs is encouraging enterprise scale EV adoption; it is becoming a viable path for meeting cost-savings and ESG objectives. However, charging accessibility and infrastructure deployment complexity can prove challenging for fleets that might otherwise be 'EV-ready,' today," says Hari Nayar, VP of fleet electrification and sustainability. "ClearCharge eliminates that complexity and offers futureproofed solutions that are viable today and can scale tomorrow – as EV fleets grow. ClearCharge provides a holistic set of options for fleet operators, enabling them to leverage our decades of expertise to operate their electric fleets with confidence, no matter where the job requires the driver and vehicle to be."
From Merchants Fleet:
ClearCharge is designed for any business in any industry with any number of vehicles that wants to deploy EVs with charging infrastructure.
ClearCharge Home simplifies home charger installation with tracked charging data and energy reimbursement reporting.
ClearCharge Work brings corporate or fleet depot charging solutions to the workplace.
ClearCharge Public is an all-in-one solution for EV fleet drivers to locate a charger, authenticate payment and initiate charging via a single smartphone application.
ClearCharge DropStation is a portable power plant that can be "dropped" anywhere to keep fleet batteries at remote job sites charged and ready for the trip back home or to the depot without range anxiety.
"As ClearCharge expands and opens multiple charging pathways for fleets later this year with ClearCharge Public and DropStation, Merchants' portfolio of EVs will too—with the addition of more than 1,200 new EVs spanning delivery vans and pickup trucks," adds Nayar. "We're very excited about the EV future. As inventory and charging infrastructure continues to improve, prior imposing barriers to electrification have started to recede, giving fleet managers an opportune moment to transform their fleet operations and make progress in their sustainability goals."