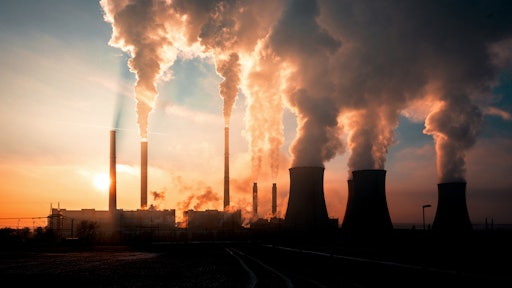 kamilpetran/stock.adobe.com
The latest IPCC report revealed that we are dangerously close to facing the catastrophic effects of climate change if we do not accelerate and act now on net-zero targets. Pressure continues to mount for actions that impact real and meaningful change. Recent research shows a mere 7% of companies are on track to reach their net zero commitments. The data is clear. The time for effective, scalable action is now.
Nearly half (43%) of CEOs said their own sustainability efforts have been hampered by global issues such as climate change or socio-political conflicts, with 17% of CEOs citing disruption within the supply chain as having the highest impact on the business. CEOs are taking action to address these challenges including diversifying their supply chains, conducting vulnerability assessments and increasing transparency across the value chain. But perhaps the most pressing place for business leaders to make quick progress also represents the biggest missing piece of the carbon reductions puzzle: Scope 3 emissions.
Scope 3 emissions are 11.4 times greater than Scope 1 and 2 combined. Defined as indirect emissions from a company's upstream and downstream operations, 41% of CEOs are implementing strategies that aim to reduce their Scope 3 emissions and strengthen resiliency across their supply chains.
The Challenge with Solving Scope 3 Issues
Making gains in addressing Scope 3 emissions is much more complicated. Nearly two-thirds of upstream Scope 3 emissions in supply chains originate from suppliers that companies don't work with directly. This awareness gap has resulted in today's current stalemate, where only 16% of companies can measure Scope 3 emissions at an advanced level. The race is on for companies to provide full visibility across their entire supplier bases to make decisions that can lower their total emissions.
"Thought you knew the Scope 3 issues in your supply chain? Think again" found ways to identify carbon-intensive "hot spots" in supply chains across supplier tiers, creating awareness where greenhouse gas emissions are significantly higher and potentially more difficult to reduce. From there, a new model uses industry- and country-level trade and emissions data to calculate the Scope 3 contributions of suppliers to their customers and create an accurate picture of the location and size of upstream GHG emissions.
With increased visibility into upstream Scope 3 emissions and innovative technology embedded into the core business, companies can make better-informed decisions about how and where to allocate resources; ensure responsible procurement throughout the organization to drive meaningful reductions; and uncover broader enterprise value by creating more efficient, resilient, cost-effective and customer-centric supply chain networks. The result is a reduction in carbon emissions that is both measurable and meaningful.
Managing Carbon Intensive 'Hot Spots'
With the pace of climate change accelerating, there is an opportunity for companies — whether tech-enabled businesses, manufacturers or service providers — to distinguish themselves from competitors. There are actions that business leaders can take now, including these five:
1. Conduct a real multi-tier emissions hot spot analysis to set targets and drive the right actions. A multi-tier emissions hot spot analysis identifies sources of emissions throughout an organization's value chain. It helps companies understand where hotspots exist and what types of action could help them achieve deeper reductions or avoid unnecessary costs. Conducting this type of analysis will identify opportunities for improvement throughout your supply chains and ensure that any emission reductions are achieved through operational improvements.
2. Integrate sustainability into category planning and supplier selection. Start by ensuring environmental, social and governance criteria are included in sourcing activities. From real-time data analytics tools that give visibility into operations across the supply chain to predictive analytics platforms that help identify areas for improvement in each phase of the journey, many available technologies can make this process easier. Depending on the hot spot areas identified in the first step, a company can customize category plans, including emission-reduction strategies, to address hot spots as appropriate.
3. Include emissions into the supply chain control tower and implement a digital twin. Digital twins are digital representations of physical objects that capture all data about those objects: location, condition and history. A digital twin of the supply chain generates the end-to-end visibility necessary to optimize supply chain networks across service, costs, quality and sustainability — in real time. Companies can uncover how an object impacts the environment by modeling its impact at every stage, from raw material extraction through manufacturing and use to disposal.
4. Support suppliers in their ongoing decarbonization efforts. When Accenture examined German automaking, the analysis revealed Scope 3 emissions originating from suppliers buried deep in supply networks from countries in different regions. Data from the analysis identified the full number of upstream emissions by country, industry and supplier tier. From there, segmenting the supplier base helps German automaking tailor engagement programs appropriately, provided supplier data quality is also being regularly improved.
5. Collaborate across sectors with peers, suppliers and ecosystem partners to speed up decarbonization at scale. Sourcing an intelligent platform solution to aggregate data from multiple parties and make recommendations on the most effective steps toward decarbonization is critical. Although there are many examples of successful initiatives between parties, such as joint accountability agreements and systems to exchange data, these are limited by their ad-hoc nature.
The transition to a low-carbon economy is one of the greatest challenges of our time. The business leaders of tomorrow are acting today to solve it, building the infrastructure needed to tackle Scope 3 emissions and, in turn, systematically filling in key pieces of the climate change puzzle that, when complete, represents a new, better future.