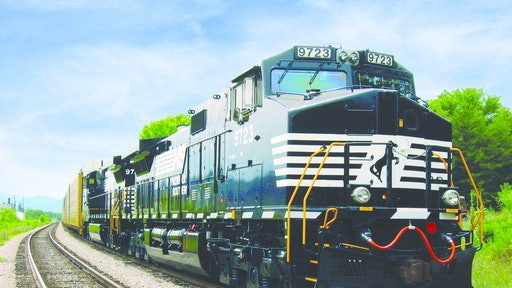 Getty Images
Rail unions are poised to go on strike on Sept. 16, a move that could bring nearly 30% of the nation's freight to a grinding halt, according to data from the Bureau of Transportation Statistics.
President Biden prevented this strike two months ago by enforcing a 60-day cooling off period, where the Presidential Emergency Board looked at the disputed issues in the negotiations and issued a recommended settlement, reports CNN.
That 60-day cooling period expires Sept. 16, and only Congress can act to prevent a work stoppage.
A statement by Jeremy Ferguson, president SMART Transportation Division, and Dennis Pierce, president of Brotherhood of Locomotive Engineers and Trainmen Teamsters Rail Conference, details how the rail strike could "further abuse shippers and gridlock the supply chain in order to extort a contract settlement from rail unions."
"Late on Friday, Sept. 9, the nation's largest railroads began warning major shippers that they are declaring an embargo on certain types of new shipments five days in advance of the end of the federally mandated cooling-off period at 12 a.m. EST Sept. 16. They further advised that all rail shippers could be blocked from making any rail shipments well in advance of next Friday's deadline for a lockout or strike. This completely unnecessary attack on rail shippers by these highly profitable Class I railroads is no more than corporate extortion. Our Unions remain at the bargaining table and have given the rail carriers a proposal that we would be willing to submit to our members for ratification, but it is the rail carriers that refuse to reach an acceptable agreement. In fact, it was abundantly clear from our negotiations over the past few days that the railroads show no intentions of reaching an agreement with our Unions, but they cannot legally lock out our members until the end of the cooling-off period. Instead, they are locking out their customers beginning on Monday and further harming the supply chain in an effort to provoke congressional action," Ferguson and Pierce add.
In a letter received by the Consumer Brands Association (CBA) to President Biden, "Our member companies depend on freight rail services every day to ensure the availability, affordability and accessibility of essential products. It would devastate the nation's already struggling supply chains if a labor agreement between the freight railroads and their unions cannot be reached before the Sept. 16 deadline. Consumer Brands has already encouraged the Biden administration's appointment of a Presidential Emergency Board (PEB) to ensure resolution of labor negotiations. Although the recommendations of the PEB are non-binding, they are often crucial in assisting the parties to reach voluntary agreement. As the negotiating deadline nears, however, we are concerned that additional action may be required to prevent disruptions to our nation's rail network and, by extension, the CPG industry and broader economy. If a voluntary agreement cannot be reached, Consumer Brands supports Congressional action to finalize negotiations based on the PEB recommendations and do what is in its authority to prevent service disruptions that will have a profound impact on the availability of critical products."
Over the weekend, the American Short Line and Regional Railroad Association joined the growing list of groups calling for Congress to intervene in the Class I rail labor dispute.
What's more is, rail companies have already begun prepping to halt service until all 12 of the unions involved in current negotiations come to an agreement prior to Sept. 16.
"We have communicated to our customers that we will temporarily halt certain types of shipments beginning Sept. 12. In addition, to safely ramp down our network and enable us to bring service back quickly, certain other customers will see a preliminary curtailment of service before Sept. 16," according to Norfolk Southern.
Stay tuned for further updates to the rail strike as we approach Sept. 16.