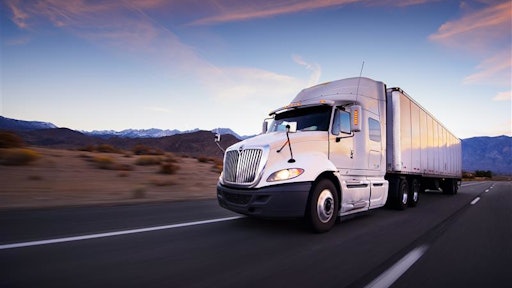 dell - stock.adobe.com
Britain is running low on alcohol. In Canada, there's a dwindling supply of maple syrup. Australia is short on urea, an additive needed to maintain diesel trucks. New Zealand needs more brown sugar. These are just a few of the effects of the ongoing pandemic-era supply chain crisis.
The systemic issues that have led to the slowdowns, unfortunately, don't seem like they will be going away any time soon. Some industry experts warn that the current situation could even last another two years. And, as transportation bottlenecks continue to pile up – port backlogs, driver shortages and part sparsity, among many others – trucking fleets have become more strained than ever.
Other issues, which existed long before the Coronavirus disease (COVID-19), have upended the trucking industry as well, including a lack of appropriate tools to allow fleet managers to identify, isolate and manage the data they're receiving from the onboard computers in their fleets. And, even when astute vehicle health reports can be collected, they are reviewed in an inefficient manner, often by individuals who are inexperienced, thus delivering only limited results and making it difficult to identify the root cause of the problem with a truck.
So, what exactly led trucking fleets to become such a significant challenge in the U.S. supply chain? And, what can fleet owners do in 2022 to lessen the impact of the supply chain crisis?
The pain points
Trucking challenges did not start with the pandemic; route prices have been climbing for years now. The Los Angeles to Atlanta route, for example, cost $3,000 in 2020 while today, it's closer to $8,000 a day.
It may come as a surprise that tires are the underlying cause of some of the cost increase. Prompted by COVID-19-related labor shortages at rubber tree farms, the cost of rubber surged by 70% year-over-year from May 2020 to May 2021, according to the Singapore Commodity Exchange. Not to mention, if tires are not properly monitored on each vehicle, entire fleets can pay the price – a mere 2% tire underinflation can lead, beyond higher fuel consumption, to unnecessary wear and tear and subsequent vehicle downtime.
Other factors that have had a tangible negative effect on the efficiency and sustainability of trucking fleets are part shortages and driver shortages. There has been a 20-30% increase in the cost of overall truck parts, exacerbated by the fact that it can now take 15-30 days longer to get parts at body shops compared to the pre-pandemic period. And, a recent survey by the American Trucking Association showed there is a need for another 80,000 truck drivers today, with the need for nearly a million new driving recruits over the next decade, if the industry hopes to grow.
These price jumps and shortages not only harm fleet owners' bottom line while driving up total cost of ownership (TCO), but they slow the rate at which fleets are able to make deliveries and secure their link in the supply chain.
What can fleet owners do?
As we enter 2022, what can be done to mitigate the effects of the supply chain crisis on fleet managers' bottom lines? There are several options.
First, fleet owners must make sure that all "common sense" fleet maintenance tactics are being incorporated by their employees. Those can include mandating weekly and monthly maintenance checks by licensed technicians, hosting workshops to further instruct drivers on safe driving techniques, which can reduce wear and tear on their vehicles and making sure that faulty parts are replaced as soon as a problem is detected.
Second, fleet managers can incorporate cutting-edge technology to reduce TCO. Here are a few examples:
Paperless compliance. Why force drivers to log what they're doing every 15 minutes (the industry standard today) when new digital recording tech can log every minute without requiring any input from the driver at all?
Use truck-specific navigation software. Waze and Google Maps are not appropriate when driving an 80,000-pound machine and you need to avoid roads with weight limits, low bridges and HAZMAT restrictions.
Turn-by-turn directions in the yard. Getting to the warehouse in the most efficient manner is the first half of the battle. Private yard mapping can get a truck to its final destination faster.
Preventative maintenance. Telematics can provide fleet managers with a wealth of new diagnostic data on the mechanical health and performance of their trucks. Predicting where and when problems will occur in real-time before they happen can prevent costly equipment replacements, and of course, the opportunity cost that comes with increased downtime.
Artificial intelligence. Increased adoption of artificial intelligence (AI) in the mobility sector will transform fleets from purely manual machines to computers on wheels delivering actionable insights.
Moving forward
The challenges brought on by the supply chain crisis are here for the foreseeable future. But, these serious challenges don't have to cause serious damage to fleet owners' bottom lines.
A forward-thinking approach to fleet data management and the adoption of stellar technology will enable fleet owners to gracefully navigate the long and winding road of the supply chain crisis.