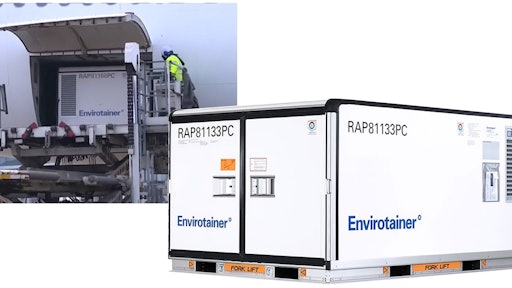 Envirotainer
Envirotainer developed RAP e2, what is said to be one of the most advanced temperature-controlled air cargo container.
RAP e2 will be used for the safe transportation of COVID-19 vaccines, offering almost twice the insulation value of an aluminum/PUR container yet with an interior temperature of -20°C to 40°C.
"Envirotainer is proud to be part of the efforts to transport both ongoing COVID-19 trial shipments as well as the upcoming global shipments of the COVID-19 vaccine," says Bernt Anderberg, CTO at Envirotainer. "Working together with partners like DIAB helps us deliver a safe and secure solution for the life-saving medicines that people depend upon."
From Diab Group:
Full-scale tests have shown that the RAP e2 can withstand more than a 23-ton static load on its roof.