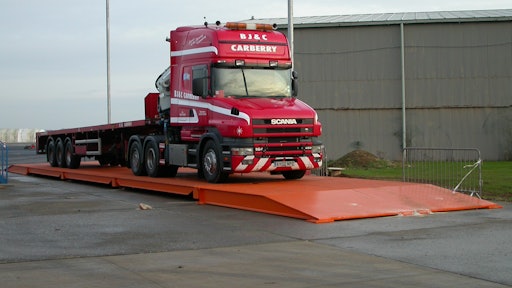 Quality Scales Unlimited
Truck scales are used diversely in many types of industries such as shipping, construction agriculture logistics and many more. There are different types of industrial weighing scales, right from the large scales that can be installed to flexible mobile solutions that can be moved from site to site. They have a sturdy construction, user-friendly features and deliver accurate results. Scales are the key to the operations of many businesses especially when it comes to transportation and logistics. The logistics and shipping industries depend on the precision of their weighbridge truck scales as well as the prevention of accidents and errors. Here are 5 commonly used weighing scales:
1. Weighbridge Truck Scales – These are special metal bridges equipped with load cells or mechanical weighing equipment. They are installed in an area with enough space for the trucks to enter and exit safely. The truck loaded with goods will be driven up to the scale bridge to be weighed. The advantage of weighbridge truck scales is that they can be used to measure the weight of many trucks in a short period of time and are also suitable for many different types of trucks.
2. On-Board Truck Scales – On-Board Truck Scales are cordless weighing systems fitted on the truck. These scales transmit the measurement with the help of a special signal which is sent to a monitor. With the help of load cell technology in combination with pressure readings of the air suspension the scale determines the weight of the truck and the load. The On-Board Truck Scales can be installed on a wide range of trucks and are fitted specifically to meet the necessities of the truck. The information of the scale and the weight is readout on the truck itself which makes it very convenient and flexible, making work easier as the weighing takes place at the load site itself.
3. Portable Truck Scales – These scales come with multiple benefits and an adaptable interface. Portable truck scales make sure that there are accurate weighing results and help in observing the legal limits of loading and sees to it that the vehicle is loaded to optimal capacity while preventing heavy fines. This is a flexible tool for transporters and a reliable solution for farmers who need accurate weight measurements. They are heavy duty, easy to move, weigh-in-motion capabilities, rust resistant, corrosion proof and available with optional ramps that can be fixed on almost any surface. Portable truck scales have replaced concrete desk scales and pit types because they are user-friendly and flexible.
4. Vehicle and Axle Scales – These help in providing the weight of the gross and axle of different types of vehicles, from light vans to heavy multi-axle trucks and vehicles. These help in measuring accurate weights of trucks carrying loads and eliminate hefty fines. These scales are easy to operate, easy to move from one place another and have an overload protection system.
5. Floor Scales – These scales are used to weigh goods when they are moving in and out of the inventory. The risk of loss of revenue is reduced with the help of this scale. They are either placed in a pit so that they are level with the ground or the top of a level floor. The load can directly be placed on the scale to weigh.
Weighing scales are a requirement for almost every industry as they help in guaranteeing optimum productivity and fulfillment. They instantly identify overloaded vehicles and are fully integrated and cost-effective which makes them the right investment for your business.