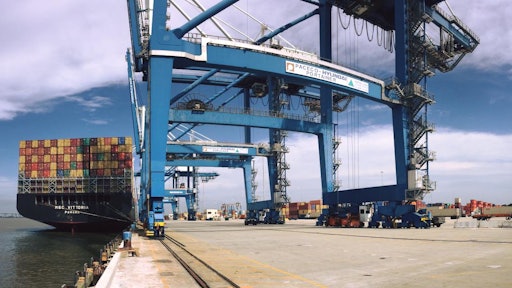 April 29, 2016—The Port of Charleston plans to help exporters weigh containers before loading them onto ships, making it the first major U.S. port to offer assistance with new regulations some shippers say could raise their costs and cause delays.
Manufacturers, retailers and farmers worldwide have been locked in conflict with ocean carriers over a new rule by the United Nation's International Maritime Organization requiring shippers to provide the verified gross mass, or VGM, of all containers loaded on to ships starting July 1. Carriers say the rule will reduce accidents caused by overweight containers, but shippers say it will make exporting cargo more expensive and lead to delays at port gates.
The Port of Charleston is offering to weigh containers using existing scales that trucks drive over to enter the port, said Jim Newsome, chief executive of the South Carolina Ports Authority. Container weights would be accessible online, where shippers could collect the data and transmit it to carrier. The cost to shippers would be about $25 per container, Newsome said. Based on March export volumes, that would have amounted to about $2 million if all shippers used the service.
Newsome said the port's plan would allow shippers to avoid having to make an extra stop at a third-party weigh station or take other steps that shippers say would make complying with the rules too expensive. The port is expected to release details of its proposal soon.
To read the full story, please click here.