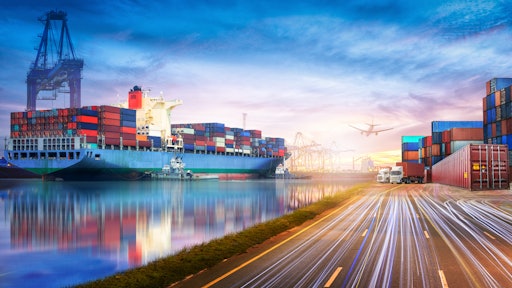 enanuchit/stock.adobe.com
It belabors the obvious to say it: Retail e-commerce has grown exponentially in the last several years. With a palpable nudge from the pandemic, worldwide online sales broke the $5 trillion threshold in 2021 and are expected to top $6.3 trillion this year – an eye-opening 20.8% of total projected retail purchases. While some shoppers may long for the simpler days of wandering the mall to buy toys, blue jeans or scented candles, a customer's first contact with a merchant today usually takes place online.
Along with the sheer volume of online retail, the speed of a given e-commerce transaction – from order placed to order delivered – has accelerated sharply. The 'Amazon effect' – getting nearly anything you could want for a competitive price, often delivered overnight – has compelled shippers and parcel carriers to up their game in an effort to compete with Amazon, which commanded 37.8% of U.S. online retail market share as of June 2022. (For perspective, Walmart held a distant second place at 6.3%.)
No more 'us versus them' thinking
Where do we start upping our game? By recognizing that we – shippers and carriers – are in this thing together. In our digitized world, we're all learning the value of capturing data, but it's how we use and share that data that can give us the logistical edge. By applying business intelligence (BI), we can uncover new ways to improve delivery and 'drive' efficiencies (bad pun intended). With the right tools, online businesses can leverage real-time visibility into their delivery operations to benchmark and monitor KPIs, giving them what they need to optimize their supply chain efficiency.
To prove the point, consider a foundational piece of BI that surfaced in 2014. One of the 'Big Three' parcel carriers learned from a logistics analyst that it was inefficient for their drivers to make left turns, because they leave trucks sitting in traffic longer. In fact, by adopting a routing policy of minimizing left turns, the carrier found it could save more than a million gallons of fuel annually. Not only that, but left turns are dangerous: research done by the City of New York showed that left turns are three times more likely than right turns to cause a deadly crash involving a pedestrian.
What's driving the demand for BI
Examples like this explain why parcel shippers and their carriers are turning to business intelligence to improve delivery rates, lower operating costs and give customers a better experience. The ability to apply ever more sophisticated analytics tools to the ever-increasing quantity of aggregated data has hastened the adoption of BI in the transportation and logistics space.
Why the sudden rush? With competition ramping, shippers want more visibility into their transportation spend so they can manage and control it more effectively. They're looking to spot negative trends in cost and performance – and identify root causes – as early as possible to take corrective action. Using BI tools, they can conduct sensitivity analyses to evaluate the service and cost tradeoffs of different transportation strategies and tactics.
As the demand for 100% transparency and trackability continues to grow, it's becoming clearer that BI is a must-have if a company seriously hopes to take control of its operations. We've found that by analyzing our customers' data, we can help them make better-informed strategic decisions, which is a win-win for both of us. For example, we've helped them select the optimal location for their next distribution center, basing our analysis on how much it would save them in shipping costs.
How you turn data into actionable insight
By applying the right analytics to specific, detailed information, shippers and carriers alike can gain insight into the inner workings of their supply chains. Drawing on this insight, they can make data-driven changes to transportation and logistics operations using several tools.
BI starts with pulling data from data warehouses, putting it through complex analytics and turning it into actionable information. Using software platforms, portals and dashboards, users can develop reports in near-real time that are more detailed and dynamic than in the past, presenting answers in compelling data visualizations such as reports, maps, charts and graphs.
Both carriers and shippers can use BI to zero in on potential delay-causing variables and red-flag them. Let's say your data analysis reveals that deliveries in specific zones aren't meeting expectations. Your analysis can also point to options for addressing these shortfalls – for example, sourcing from a different distribution center to avoid congestion.
Connect through a unified platform
Open, real-time communication is crucial to an effective shipper-carrier relationship, especially in today's competitive landscape. Connecting through a unified platform lets the two partners share data to drive conversations, set realistic expectations and – not least – hold each other accountable when need be. Having the means to make decisions jointly and hold discussions based on a 'single source of truth' keeps everybody grounded in reality and, at the same time, builds trust.
To augment this 'single source of truth,' Many carriers and supply chain practitioners already utilize data lakes to augment this 'single source or truth.' Perhaps it goes without saying, but having a centralized repository for storing data as is (without having to structure it first) allows it to be run through different analytics – from dashboards and visualizations to big data processing, real-time analytics and AI/machine learning – to guide decision-making.
Embrace big data and AI to deliver the future
At the core of modern business intelligence, big data and AI are currently driving the evolution of logistics and shipping in ways that are just now coming into view. They've already shown the potential to reduce inefficiencies in last-mile delivery, provide transparency in the supply chain, optimize deliveries and automate the supply chain.
By embracing AI-enabled business intelligence software, progressive shippers and carriers – those that share data and otherwise work together – will gain insights that help them up their game in a highly competitive environment and exceed customer expectations. As we've seen in other industries, it's only a matter of time before most if not all logistics companies add AI to the mix to streamline operations, improve their delivery rates and lower operating costs.