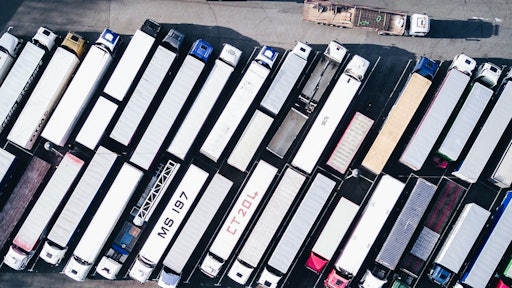 Unsplash
Persistent issues remained in the supply chain throughout 2022. Whether it was canceled sailings due to congestion at U.S. ports, rail congestion, chassis shortages or a lack of drayage capacity to pick up containerized shipments, there were major pain points for shippers and third-party logistics firms — leading some economics experts to believe that "many months, and perhaps years, are likely to transpire before the chaos subsides."
However, the industry did see some advancements. Freight rates continued to fall due to easing in supply chain disruptions — although some say that raises concerns of a recession, as the demand for goods has dropped.
New problems are already in play as we quickly make our way into 2023. While there was a shortage of containers at the height of the pandemic, the opposite is now the problem: Too many containers.
What else can we expect from the ever-changing supply chain in 2023? Here are some predictions and expectations of what's to come.
Ocean blank sailing levels will remain high
According to Sea Intelligence, ocean carriers greatly increased their number of blank sailings in October, to levels not seen since 2019, due to freight rates plummeting and demand stalling. Currently, an increase in canceled sailings from Asia bound for the United States is hitting the Port of Long Beach and Port of Savannah, reducing their ability to ship exports.
Now that rates have softened and with new capacity expected to be coming into the market in the New Year by way of new container ships, carriers will need to accommodate for the potential downfall in demand and the further softening of rates.
Expect blank sailing schedules to be strong again throughout 2023 as carriers continue to protect those rate levels.
Shipping rates will continue to fall
Inventories remain high, and even though U.S. consumer spending is beginning to rebound, high inflation is cooling overall demand. Consequently, importers have reduced overseas orders. With decreasing demand and looming warehouse overcapacity, ocean and trucking carrier costs have dropped, leading to rates that we haven't seen in quite a while.
As shipping rates continue to fall over the next few months, we might see some consolidation among ocean carriers as they renew their focus on deploying their cash. Expect to see at least one of the Top 10 global ocean carriers disappear through a merger or acquisition.
Because carriers will need to make adjustments that could lead to a rise in blank sailings and removing vessels from rotation, anticipate shipping rates to eventually stabilize in the coming year. Expect transpacific eastbound ocean rates to be fully restored to pre-pandemic levels by Q2 in 2023, and ultimately, they could reach 10-year lows by the summer. Companies want stability; expect them to ask for fixed rates again in order to get that.
Congestion eases, but warehouse capacity stays tight
Massive backlogs and disruptions have plagued congestion levels at ports and rail yards. However, it appears to be easing around the country. Sea-Intelligence reports that as of October, 50% of port congestion had been resolved. Furthermore, the logjam at the ports of Long Beach and Los Angeles have finally dissipated. We believe congestion will ease back from their historic levels in just a few months.
Although congestion is loosening, warehouse capacity is going to remain tight throughout 2023 across the United States. This is due, in part, to supply outpacing demand. High inventories in the United States and China remain, due in part to U.S. consumers spending more on in-person experiences than goods, which has left stockpiles soaring.
Based on recent market reports prepared by Cushman & Wakefield, the U.S. industrial vacancy rate in Q3 remained tight at 3.2%, which was a 20 basis-point uptick quarter-over-quarter. However, compared to last year, the rate has fallen 60-basis points, which is greatly below the five-year historical average of 4.7%.
Each region had overall vacancy rates below 4%, with the West sitting at the lowest rate of all U.S. regions at 2.5%. We believe rates will rise modestly, giving occupiers some much needed, albeit slight, relief driven by excess inventories, continued growth in internet sales, and an expected shift toward more "onshoring" of manufacturing.
Labor disputes will continue
A major rail strike began in September between the country's largest freight railroad companies and several unions — representing 115,000 workers. However, those unions have voted down labor deals and extended negotiations. The fear of a strike is very real. Industry experts estimate that a shutdown could cost the nation's rail system $2 billion a day.
Unfortunately, these labor disputes aren't going away any time soon, as workers push for better conditions and improved wages to combat inflation. That being said, the National Carriers' Conference Committee, which represents management in the negotiations, said that since a cooling off period remains in place, "the failed ratification does not present the risk of any strike or the potential for any resulting service disruptions." If a strike were to be voted on by the unions, it is highly likely that Congressional action would be taken to stop it.
As a result, rail agreements will eventually be reached — without any work stoppages or strikes in the process.
Despite setbacks and challenges, the supply chain made improvements in 2022. The New York Fed's Global Supply Chain Pressure Index suggested that "global supply chain pressures are beginning to fall back in line with historical levels." And assuming the current pace continues, Sea-Intelligence believes the supply chain should be back at the "normal" 2% capacity loss baseline by early 2023. Even though the supply chain might not ever completely return to what it once was, we believe shippers and carriers will see continued improvements in 2023.