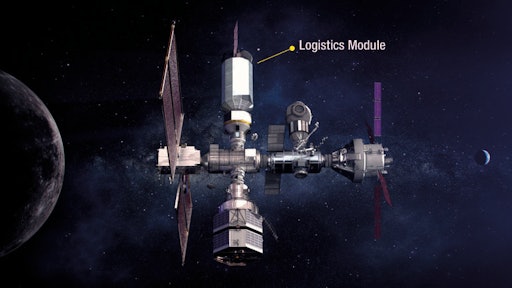 When we think of heroes, we're quick to name off the standard: our parents, Superman, celebrities, but the Coronavirus disease (COVID-19) pandemic put new faces to the word. Every night we clapped for healthcare professionals, truck drivers, grocery store employees, warehouse workers and more, thanking them for maintaining some normalcy in our lives.
The folks over at NASA are no different. In fact, their contributions to the global supply chain in a remote work setting didn't slow them down; it only fueled their creativity to come up with innovative solutions.
"Our team is 'can-do', and in fact, on the same day telework went into effect, we announced our first major project milestone to industry and media; SpaceX's Dragon XL logistics module as the initial U.S. commercial provider for Deep Space Logistics," says Jennifer W. Lyons, deputy manager, deep space logistics, Gateway Program, NASA Kennedy Space Center. "Coordinating this big announcement virtually among a myriad of agency and stakeholders was challenging, but ultimately very successful, and proved once again that physical separation is just a state of mind."
Lyons explains how a group of professionals within the organization are developing the deep space commercial supply chain that will provide commercial delivery services for the deep space supply chain. The Gateway platform will be an aggregation point of all necessary hardware and resources, helping bring future launch missions to the moon, Mars and beyond.
"We're a new NASA program and still in the early design phases, but we are working to enable the first woman and next man to land on the Moon in as part of the Artemis Program," says Lyons. "Before the pandemic, we spent our time collaborating and sketching out plans, processes and contracting mechanisms on huge whiteboards and conference room screens for Deep Space Logistics' services. Our work hasn't changed, but how we do it has evolved quickly in this telework environment."
Like others in the logistics industry, NASA saw an increase in all air, ground and space movements. Lyons explains that the Pegasus barge transported rocket mock-ups from Louisiana to Florida, while the Super Guppy aircraft ensured the Orion spacecraft made its round-trip from Ohio's Glenn Research Center for testing safely. In addition, the Space Launch System is expected to arrive from Louisiana on the barge.
"Having just celebrated 20 years of continuous human presence on the International Space Station, NASA also continued to deliver mission-critical crew and cargo to support ongoing operations in Low Earth Orbit," says Lyons. "Even during the pandemic, astronauts were safely and successfully launched on the Crewed Flight Test and Crew-1 missions in order to exchange crews. Commercial cargo missions were also successfully packed, stacked and launched to the station with critical deliveries of air, water, food, clothing and other consumables. Cargo deliveries to the station also included equipment and spares for maintenance of the space station itself, as well as science equipment and supplies for ongoing research and experiments."
Still, the COVID-19 pandemic only slowed down system developments with Gateway Logistics Services partner, SpaceX, but did not stop it. Lyons explains that the organization started development of initial concepts and technical assessments and some advanced ground testing to simulate the extreme radiation environment in lunar orbit.
"One thing that has become obvious to me because of the pandemic is how truly inter-connected we are on this Earth. Our fortunes around the world are intertwined, and the global supply chain is an important part of that connectivity. At NASA, we are focusing on extending that global supply chain outward, off-planet, into space," says Lyons. "Our NASA efforts focus on helping humanity for the 'long haul,' and we work every day to inspire and serve America and benefit the quality of life on Earth. We are going to return to the Moon and then go to explore Mars and beyond. Our responsibility in Deep Space Logistics is to establish and grow the supply chain that will get us there. We are tackling our mission with enthusiasm and energy, and it is our honor and a privilege to do so."