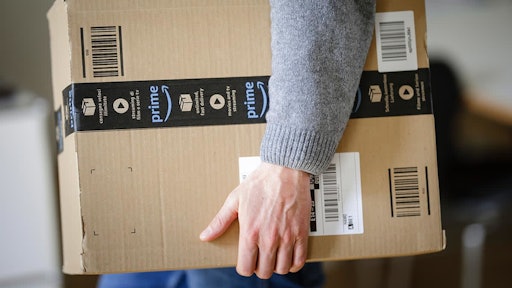 Amazon package
Retailers are banking on buy-online, pickup-in-store (BOPIS) and curbside pickup to save the day this holiday season. In fact, eMarketer's recent survey shows that the United States may see a 60% year-over-year growth in BOPIS sales, thanks to it being a contactless shopping experience.
In fact, it seems more retailers than not have already adopted these services as part of their omnichannel strategy. Industry experts believe 90% of brick-and-mortar retailers will offer BOPIS by 2021. And, two out of three e-commerce shoppers have already tried BOPIS programs, and will presumably do so again in order to avoid shipping fees and meet their immediacy and convenience needs. As these services grow in popularity, shoppers will invariably experience challenges and friction.
A recent survey of shoppers that have used BOPIS programs before explains the appeal—49% said they chose BOPIS because it was a faster option than delivery, while 44% said it was due to being a more affordable option to shipping, while 7% were concerned with residential delivery issues.
Thanks to the Coronavirus disease (COVID-19), the only prediction everyone agrees with is that this holiday season will see more e-commerce shoppers as people continue to dodge the risks of exposure to the virus. Surveys indicate more than 60% of people plan on shopping exclusively online this season. Will brick-and-mortar retailers be able to adjust in time and give holiday shoppers a frictionless experience?
Truthfully, not all retailers will be able to offer the adequate levels of customer service with BOPIS or curbside service, despite hiring more employees. A recent report uncovered that nearly 47% of retailers are having issues with attracting seasonal employees despite offering competitive incentives like bonuses, premium pay and increased employee discounts.
Depending on how a retailer's pickup system is set up, customers may be forced to wait in long lines that are also designed to assist patrons with merchandise returns and other customer service issues. Other stores may lack the signage and employee training necessary to help a BOPIS shopper find their pickup destination quickly and easily. While we are seeing some larger retailers get creative with utilizing self-serve lockers for BOPIS orders, most retailers won't be able to accommodate this kind of arrangement in time for the holiday season.
Retailers smartly offer in-store pickup incentives, but the backend setup and implementation of these new processes continues to be a challenge for many. But, there is a solution to this problem that gives customers the gift of convenience—leveraging a third-party logistics (3PL) solution to ensure a seamless customer experience while simultaneously managing existing inventory levels.
3PLs enable retailers the option to prevent a lost sale (such as when a customer doesn't pick up an order) by giving customers a choice to convert a BOPIS and/or curbside order to a same day or next day home delivery. Last-mile home delivery is an effective solution for retailers that want to make spirits bright amidst a flurry of seasonal activity that is hindered by pandemic limitations.
Adding home delivery to BOPIS not only delivers convenience for the holiday season, but it strengthens retail brand messages that will extend well after the holidays wrap up. A recent study found that 30% of Millennials and 25% of Gen Z customers will opt to purchase online and pickup in store, so adding the option of converting a BOPIS or curbside order into a frictionless home delivery solution will increase customer satisfaction and grow sales. And, with 60% of Gen Z shoppers already cognizant of environmentally friendly shipping options, the role of packaging and last-mile delivery will be a topic of discussion for retailers for years to come.
With all of this in mind, here's are the Top 3 things retailers can do to prepare for this fast-approaching holiday season:
➢ Stop losing sales to competitors that are providing BOPIS and curbside pickup by offering your customers absolute convenience. Enhancing your own BOPIS service with the ability to get your product into their hands without ever needing them to leave their homes.
➢ Find a logistics partner that can bridge the BOPIS and curbside pickup gap for you, so seasonal employees are able to focus on in-store customer service without distraction.
➢ Start utilizing this type of a partnership as soon as possible. The holiday season is followed by the inevitable "returns season," and that isn't something you will want to face alone. Get comfortable with these supply chain solutions, so you and your entire staff are ready for whatever will come in 2021.