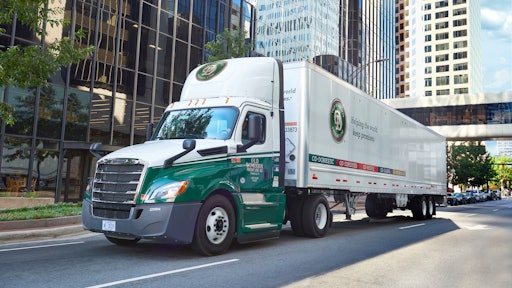 Old Dominion
In the past decade, what is known as the "Amazon Effect" has dramatically changed the supply chain and logistics sectors as retailers look for ways to get products out faster. Last mile services are completely different than even just a few years ago, as demand for faster deliveries grows.
While the Coronavirus (COVID-19) pandemic is shifting things even more, the logistics industry has already been positioned for modernization especially with technology.
Supply Chain and Demand Executive magazine spoke with Chris Kelley, Old Dominion Freight Line's regional vice president of the central states, in a conversion about logistics pre-COVID-19. In this Q&A, he touches on some of the potential that certain technologies can bring to logistics throughout 2020 and beyond and how logistics is changing to meet the new needs of consumers.
SDCE: Describe the criticality of freight trucking and how the industry contributes to the United States economy.
Kelley: As you know, trucking is critical. It's the backbone of the U.S. economy. And, it's getting more and more important with Amazon, Walmart and all the major big-box retailers shortening their supply chain window and their delivery time to the consumer. Now everything is next day. Starting out, it was two-day and now, as you know, more and more deliveries go into the next-day window. I look back at my time in the business and we went from just-in-time manufacturing with a lot of next-day, and move your suppliers closer to you 10 years ago as well as an emphasis on one- to two-day shipping. And now, that has gotten even more critical. We're delivering on Saturdays now. Anything we can do to meet the need of that retail and manufacturing sectors is being pushed. More and more, we pick up every day of the week just to make sure that the product is on the shelves of whatever their customer is or in the hands of the customer.
SDCE: What do you see as Old Dominion's biggest pain points in trucking for this year and outward?
Kelley: There's been a lot of talk about infrastructure over the last few years. Infrastructure is critical to transportation in general, especially the congestion on the road in addition to the bridges and highways. More and more trucks are on the road. We're seeing more of those final mile deliveries, more of those next day deliveries like I said. That then increases the truck traffic and the potential technology changes also. Electronic logging devices were one example last year of some of the changes that we had to stay on top of.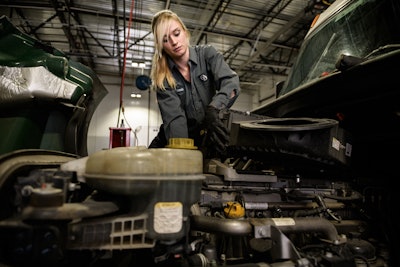 SDCE: Where do you see the biggest opportunities for industry growth and for competing against other modes of freight transportation?
Kelley: Well, again, it kind of goes back to my earlier comments and how the shortening of the delivery window to the end user has changed our business. And that's something that less-than-truckload (LTL) transportation is uniquely able to solve. If you look at any of the major big box retailers, they have to have thousands of different products and items in their warehouses that customers can order and they're looking for one to two-day delivery on it.
It requires you to move that distribution center closer to your end user. It requires you to have more frequent, smaller shipments to those distribution centers. Our biggest growth has been in those type of markets.
Also, the retailers tying into that are heavily moving towards delivery scorecards, chargebacks for delivery times not being met, whether that's too early or too late. Our big growth has been in those time-definite services, getting the product to that warehouse, to retailers, then to customers on the day and time needed. This ensures our customer scorecard is good, and the customer gets it when needed. So that's been a big growth area.
SDCE: How is it using emerging technologies and how could it be better? Where do you see the use of emerging technology advancing in the trucking industry?
Kelley: We've talked a lot about it. We call it the other side of service here. It's not just delivering freight. It is how we interact with our customers from a technology standpoint. And that takes many forms. On our end, it can be things such as the ELDs and getting better management of your fleet and better maintenance of your fleet and be more efficient. These tiers ensure we're delivering our product on time and in the most efficient manner, taking costs out of our system, but also directly getting data to customers.
We're still, as an industry, very paper driven, with paper bills, labels, and so on and so forth. We've gone to electronic delivery. But one of the things I really want is for the customers to be able to get data electronically to us when they place their order, whether through either API or EDI, so that they get one bill in time with correct information to pick up what is scheduled. Eliminate some of the manual work by chain.
That's something that we have been working on. We think that would be a big advantage. Those that can deliver a seamless supply chain all the way through from a technology standpoint and from a proactive communication standpoint will be the ones that succeed long term.
SDCE: Collaboration and innovation are key as technologies advance. I think we're at a point now where you can't stress enough the importance of working collaboratively with your customers. Would you agree with that?
Kelley: I agree completely. And freight has continued to evolve. The cost of transportation is just not the cost of shipping, you know, the physical cost. We're seeing that now because everybody has adopted those proficiencies on their end. There's an overall value that we have to work with our customers to provide, whether that's the elimination of chargebacks, which at one point was seen more as a sales function but really is the cost of transportation because if you use the right mode of transportation, it can eliminate that chargeback from that. They can improve your delivery scorecard, which can allow you better shelf space in the store, product placement, more sales and preferred vendor status.
There are different things that come with ensuring that your fill rate is on time and complete. That's something that we spend a lot of time working with our customers on to ensure that they have a predictable supply chain.