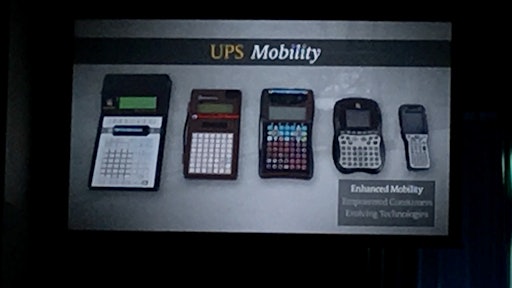 The speed at which technology evolves throughout the supply chain makes it's challenging to remember a time before the fourth industrial revolution—a time when a cloud was in the sky, and the internet was accessed through your phone line. Today, however, everything from the warehouse to the truck to the end consumer is connected. Businesses must stay on their toes to keep pace with what's ahead, anticipating tomorrow's supply chain challenges today.
During a keynote address at MODEX show in Atlanta last month, UPS' chief information and engineering officer Juan Perez explained how the logistics powerhouse has remained competitive in this ever-changing Industry 4.0 environment. Continuing to innovate in the areas of technology and engineering— a journey he said is not stopping today but has become more challenging—has allowed UPS to disrupt itself and evolve their business from a small package delivery company to a technology company.
"You know UPS by the friendly driver in the brown truck who is making deliveries in neighborhoods around the world. UPS today now more than ever before, however, has become a technology company," says Perez. "I would make the argument that each and every one of you, no matter the company, work in a technology company—it is the business we are in, especially as it relates to supply chain management. It has become a truly technology-labeled business."
For UPS, it self-disruption stems from three innovative initiators: enhanced mobility, consumer demand and evolving technologies.
Enhanced Mobility
Over the last 20-plus years, enhanced mobility has had maybe the greatest impact on the logistics provider. Fortunately, Perez says UPS saw how mobility would change the way they do business way back in 1990 when it introduced its first mobile scanner.
Perez actually used that device in his first job out of college as a UPS driver in Beverly Hills, California. When he first started the job, he recorded all of his packages manually on paper.
"I became the first driver using that big, old handheld device. Look, it was clunky, it was big, it actually worked really well to keep dogs away; however, it truly transformed the way we did business back in 1990," Perez recalls.
Drivers no longer had to carry paper logs or manage their their time cards on paper, and no longer did UPS have to have people enter all of this information over again so that they could provide it to their customers.
"The business changed, and we saw at this point that mobility was going to change the way we do business, and we started evolving our technology," Perez adds.
UPS is now working on its sixth generation of the device, which will be available in 2028. Perez says it is going to truly transform both the driver experience as well as the customer experience.
"We've all heard about the fourth industrial revolution. We know that today consumers are more connected than ever before; in fact, 5 billion of those consumers through mobility have access to information and capabilities we could only dream of 10 years ago," notes Perez. "UPS has been impacted by that change, and today, all of the work we are doing in IT and all of the work we are doing in engineering is actually driving us to take advantage of those technologies not only to satisfy our customers' needs but to also enhance the way that we do business within the company. That mobility is truly changing the way we do business."
The Connected Consumer
It's not enough to have the technology on the back-end, but today's consumers are demanding access to delivery information in a way we've never seen before. In the same way they check their email, connect with friends and purchase items, they also want that access to be convenient. They're looking for choice, and they're looking for control.
"Flexible shoppers, global consumers—they all want to be able to go from one channel to the next. They want that experience, regardless of the channel, to be seamless, to be effective, to be productive," explains Perez. "We have to make sure that the technology is easy to use, pleasant to use and it's efficient to use. They want to have great customer journeys, and they want to be able to interact with UPS in ways that nobody has ever done before. They want to have ultimate control over their delivery experience. It's no longer just worrying about the shippers, but it's also making sure that that receiver experience as is as great as an experience as it can be."
To support this, UPS introduced UPS My Choice, a mobile app that allows customers to customer their delivery options. Members can decide how, where and when home deliveries occur to fit their schedule; get estimated arrival and progress alerts; sign for a package in advance; set vacation holds, change a delivery address or hold at a UPS location; and more.
"UPS My Choice allows our consumers to have that convenience, that choice and that control. We connect the drivers to the consumers through that technology," says Perez. "You must think about your consumers as the ones who define the experience and continue to innovate and create solutions and ideas that will help you remain relevant."
Today nearly 40 million consumers are connected through UPS My Choice.
Evolving Technologies
Through technology Perez says UPS is advancing technologies in its vehicles at faster rates than ever before—to the point that it now has more than 9,000 alternative vehicles in its fleet.
On any given day, UPS will deliver more than 19 million packages around the world. That number jumps to more than 34 million during peak season, that period right before Christmas. "So when you think about that scale with which we need to manage for that time of the year and the type of engineering and discipline, the type of engineering capabilities, technology capabilities, people capabilities we need to have to be able to support that type of growth in business, it requires more technology than ever before," explains Perez.
Partnerships with innovative technology companies is one key to that growth. UPS continues to align itself with several companies who support some of things that it views in the future will be critical to their success.
"As you innovate, as you think about the future, as you continue to disrupt yourself, you can't do it alone; you need to work with others," adds Perez.
When it comes to innovation Perez also suggests considering:
Information security.
Securing the right talent, with the right skills and capabilities to support your needs.
Investing in a way that you can apply those technologies to support your customers.
"If a company like UPS that has been around for so long needs to continue to disrupt itself, how are you and your companies disrupting yourself?" asks Perez. "How do you bring innovation to the table continuously so that you can remain competitive? We have to innovate time and time again so that we can remain relevant in a space that is continuing to change."
Follow Amy Wunderlin on Twitter.